Organizing to Respond to Information Needs in N.J. News Deserts
What happens when people's most basic information needs are not met during a pandemic?
All of the challenges they are facing — like coping with food insecurity, affording their monthly bills and other costs of living, accessing employment opportunities and reaching lifesaving health-care services — are only exacerbated. This is especially true in places where responsive local news is hard to come by, the digital divide is real and trust in institutions is low. In many ways, these are the very same communities hit hardest by the pandemic.
That's why Free Press' News Voices: New Jersey project launched an initiative this summer to create community-led solutions and infrastructure that better meet information needs. In addition to our ongoing community-journalism collaborations in New Jersey, as well as our continued support for the Civic Info Consortium, we're piloting a new area of work in the state to address systemic gaps in meeting information needs. We're planning to uncover these needs through outreach, organizing and partnerships with local allies.
One of the questions we're trying to answer is: If there's limited-to-no local-news infrastructure, how can we organize to use a community's existing assets and give people the news and information they deserve?
The need for this work emerged during the pandemic, when it became more apparent than ever that accurate local information and the ability to connect online are essential to people's health, safety, education and economic well being. We're working with local organizations and the limited number of journalists in news deserts to co-create new community-led information and media projects.
Our aim is to address systemic barriers and gaps in accessing information — and prepare the ground for an accessible and resilient local-media ecosystem to take root.
Launching in Newark
We've begun this work already in Newark in partnership with the Center for Cooperative Media, Outlier Media and Newark Public Radio (also known as WBGO).
We wanted to start with better understanding residents' information needs and building relationships among stakeholders. This was so that when it came time for Newarkers to create solutions together, those ideas would be grounded in people's needs and trusting connections would be established.
In July, the Center for Cooperative Media convened Newarkers and journalists to discuss residents' hierarchy of information needs and the kinds of stories that people would like to see covered in the media. Participants identified stories about how to access groceries, employment, affordable housing, COVID-19 testing, voting information and health care as the kind of vital content Newark residents need to thrive.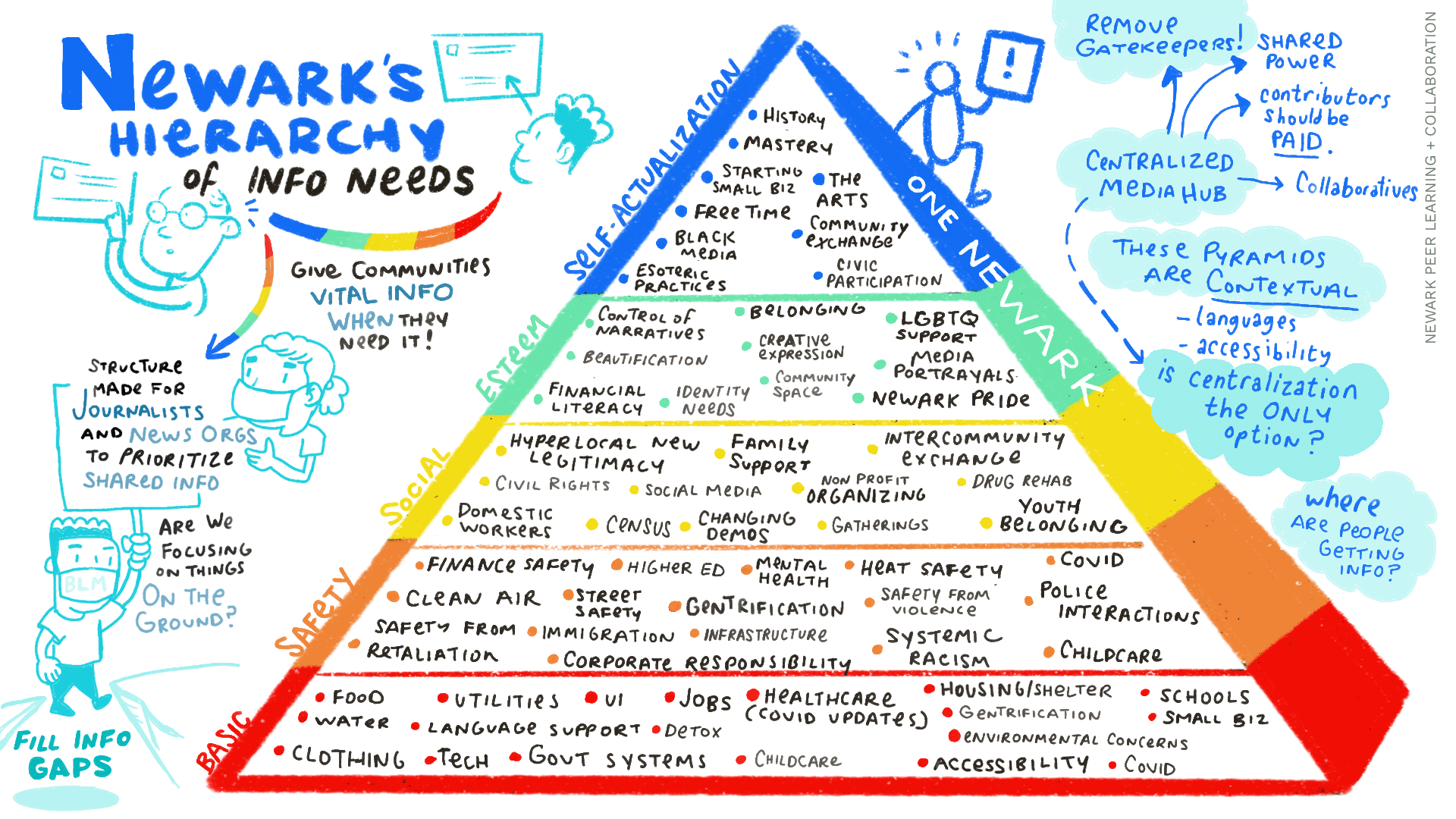 Following this discussion, Outlier Media reached out to thousands of Newark residents via SMS text, asking them about their biggest questions and reviewing 211 data from Essex County. Those findings confirmed what we heard in the initial convening: "the primary challenges identified by SMS survey participants all related to severe economic challenges." Accessing food, securing financial assistance for bills and finding employment were among the most critical information needs Newark residents shared.
Free Press, the Center for Cooperative Media and Outlier Media reconvened community members and journalists to discuss the survey results and provide insight into why people experiencing poverty have difficulty accessing information about essential services. The digital divide remains a primary reason residents cannot find news about food distribution, utility assistance and employment opportunities. Other factors include low levels of literacy, lack of media content in languages other than English and a distrust for mainstream news outlets. People also detailed a need to aggregate information across neighborhoods because currently so much information is siloed.
Co-creating solutions
Newark community participants explored a potential solution to these information gaps: creating a centralized news-and-information hub and community portal.
This could be accessed across media platforms (via the web, podcasts and social media) and by phone (text messaging), with information about resources for food, housing, utilities, health care and employment. These are exactly the kinds of collaborations between nonprofit organizations, residents and journalists that could result in shared information and distribution for Newark's hardest-to-reach populations.
The Outlier Media survey also found that Newark residents need information about education.
The survey results indicated there were many questions about the Newark school district's virtual-learning plan and how it would be implemented. This included questions about student schedules, access to the internet and computers, access to child care and help with the technology used for virtual learning. The responses are indicative of the confusion that resulted after the district's announcement — just prior to the survey implementation — that there would be no in-person instruction in the first part of the school year.
In the collaborative's follow-up convenings with Newark residents, parents reported being frustrated that they were not able to get enough information about how to get support for virtual learning and the resources needed for their children to learn successfully. They also said teachers bear the primary responsibility of informing parents about protocols, noting this information was slow to reach them at times. This lack of information made virtual learning difficult for both parents and students and deepened stress and anxiety in households — affecting people's overall health and well being.
Solutions that emerged from the discussion with community members included working with parent networks across the state to share information and best practices and looking at effective models for virtual learning from other parts of the country. There was interest in getting feedback and perspectives from youth and chronicling their journeys and how they are experiencing virtual classrooms during the pandemic.
Moving forward
With each conversation among Newark residents and local reporters, more potential solutions are surfaced. Newsrooms like WBGO and Chalkbeat: Newark are looking to directly engage with people from around the city and collaborate on producing culturally appropriate content that is responsive to local needs and accessible on multiple platforms.
By continuing to work with community organizations, neighborhood leaders and journalists, News Voices will be able to dive deeper into why these disparities exist — and, with our allies, co-create solutions to address the information gaps.
Moving forward, Free Press will continue to engage Newark residents about their information needs. We'll help shape content with WBGO at its community-storytelling lab and will work with the Center for Cooperative Media on hosting community convenings, sharing data and helping fund projects in direct response to community needs.
This month, we'll partner again with Outlier Media on SMS research in Atlantic City and Camden, two communities News Voices has organized in over the past five years. The more we know about what New Jerseyans' biggest questions are, the better positioned we are to empower people with the information they need.