News Voices: New Jersey
When it comes to news coverage, New Jersey is one of the most underserved states. Sandwiched between the New York and Philadelphia media markets, New Jersey receives little to no local coverage of its state and municipal governments.
Newsrooms are shrinking, TV stations are closing down and public-media funding has been slashed. While local news startups are providing fresh voices, they struggle to break even financially and tackle statewide issues.
New Jersey is a place of both great challenges and great opportunities. Journalists, academics, philanthropists and community leaders are joining together to make the state a model for the future of news.
We launched News Voices: New Jersey in 2015 to bring together communities and newsrooms to tackle problems in cities and neighborhoods throughout the Garden State. We've worked all around the state, including Asbury Park, Atlantic City, Camden, Ewing, Glassboro, Hackensack, Morristown, Newark, New Brunswick and Tuckerton.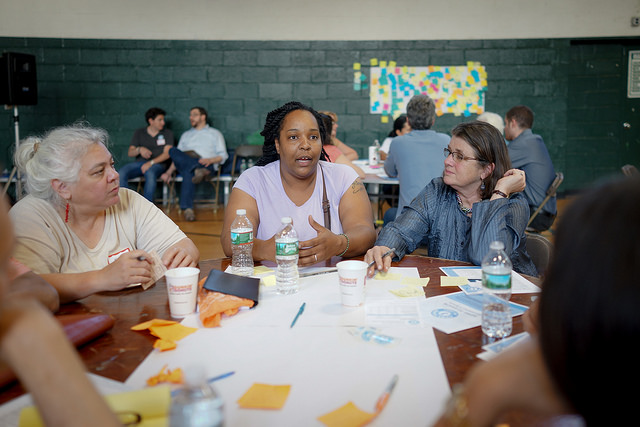 Thousands of people, including journalists, activists, students, faith leaders, union workers and artists, have come together to support the future of local news in their communities, discuss pressing local issues and collaborate to tell stories with impact.
Our work is ongoing. We're taking what we've learned in each community and teaming up with local residents and newsrooms to find ways to tell stories that matter. Some of these partnerships include organizing local forums, providing workshops in newsrooms and with community allies, training student journalists and launching collaborative storytelling projects around local concerns.
We're continuing to bring people together across the state. Want to get involved? Reach out to James Thompson to find out how to participate.
Funding the future of news in New Jersey
Imagine if we had millions of dollars to strengthen local media and meet the evolving information needs of New Jersey's underserved communities. This investment would mean more responsive local journalism and essential community information.
And right now we have a once-in-a-lifetime opportunity to make this happen.
In 2017, Free Press launched a campaign to create the New Jersey Civic Information Consortium, to invest in the future of local news and information by capitalizing on the $332-million windfall the state received from the sale of its public-media stations.
On June 1, 2017, the majority leaders of the New Jersey State Assembly and Senate introduced legislation to establish the consortium. By leveraging the resources, knowledge and expertise of our partners at The College of New Jersey, Montclair State University, the New Jersey Institute of Technology, Rowan University and Rutgers University, the consortium would help bolster public-interest journalism, civic information and media innovation for decades to come.
The Civic Info Bill garnered the support of 15 sponsors in the legislature, and thousands of people signed petitions, attended organizing meetings, and called their local representatives urging support of the bill. While the bill wasn't brought to the floor in 2017, lawmakers have committed to introducing it in 2018. What was once seemed like an impossible idea is now achievable, and in the process the campaign has helped create a constituency to support the future of news in New Jersey.
Creating the Civic Information Consortium will require action from the state legislature and the governor. That won't happen without public involvement and pressure. We have a real shot at securing these funds, but only if we act now.
We're traveling across the state to gather input on what kinds of projects the consortium could support. Join us in transforming local journalism and local communities: Tell state lawmakers to fix the local news crisis.
Help us transform
local news