2021 Annual Report: A Year of Big Challenges and Remarkable Progress
A MESSAGE FROM OUR CO-CEOs
It's no secret that 2021 was filled with major challenges — but it was also a year of new opportunities and significant progress toward a more just media system.
We're proud of what Free Press has been able to accomplish at this difficult moment. And we have ambitious plans for the year ahead. 
We've secured billions of dollars to bring broadband access to those who struggle to afford it. We've shined a light on media that mislead and exploit our communities. We've charted out clear and compelling ways to fix these problems and ensure our media system serves justice and repairs harms.
Our donors and activists make all of our wins possible — and we couldn't be more grateful. And because we're funded solely by independent charitable foundations and gifts from individuals, we'll rely on your continued support and generosity to fuel our work in the months ahead. Read on to learn what you helped accomplish in 2021.
Onward,
Craig Aaron and Jessica J. González
Co-CEOs
Free Press and Free Press Action
CLOSING THE DIGITAL DIVIDE
Our advocacy paved the way for historic broadband provisions in the infrastructure package that President Biden signed into law. Never before have we seen such a meaningful congressional investment in closing the digital divide: The bill includes nearly $65 billion for broadband. A remarkable $14.2 billion of that total is committed to broadband-affordability measures.
This achievement builds on work Free Press Action has done since the start of the pandemic to make high-speed internet access more affordable for struggling households. 77 million people in the United States lack access to adequate high-speed internet — and this digital divide disproportionately impacts Black, Latinx and Indigenous communities. The divide has had severe consequences during the pandemic, where access to health care, schooling, work and so much more depends on a reliable connection.
Free Press Action's Matt Wood highlighted this point when he testified in Congress about the need to treat broadband as an essential utility, noting "Those who lack home internet are often unable to safely social distance and are forced to put their entire families at risk to take care of basic human needs."
In response to our advocacy and research, Congress included $7 billion for broadband in December 2020's COVID-19 relief package — with nearly half specifically devoted to affordability measures to get and keep people online.
In 2021, the Federal Communications Commission set up the Emergency Broadband Benefit program to distribute this money, which provided a direct subsidy for eligible households to put toward their internet bills. We monitored and shaped the implementation of this vital program — and this became a more permanent benefit when the infrastructure bill was signed into law. We're working hard to ensure that the FCC penalizes any ISP that seeks to undermine the program and dares to abuse the public's trust in any way.
We're also fighting on other fronts to preserve access to broadband. Campaign Manager Heather Franklin helps lead the Utility Justice Coalition, a network of more than 800 public-interest groups that is urging Congress and the president to prohibit companies from shutting off essential services like water, electricity and internet service during the pandemic.
Meanwhile, Research Director S. Derek Turner's investigation exposed billions of dollars of waste in the Rural Digital Opportunity Fund under the Trump FCC. This money, which is supposed to subsidize broadband for people living in rural communities, instead went to densely populated urban areas and to places that don't need broadband like storage tanks and traffic medians. Our work helped push the Biden FCC to scrutinize this funding and take steps to ensure that this money brings internet service to real people.
We've also achieved some key victories in the fight to restore Net Neutrality. President Biden issued an executive order calling on the FCC to bring back the Title II open-internet rules and promote broadband competition. We also scored significant legal wins: In 2020, Free Press Action filed a brief in support of California's landmark Net Neutrality law — and in 2021, a federal district court rejected the efforts of cable and phone lobbyists to block the state's enforcement of this law (a federal appeals court issued a similar ruling in early 2022).
ADVOCATING FOR PROGRESSIVE LEADERS AT THE FCC and FTC
The FCC has been deadlocked for the first year of the Biden presidency — which means it's been unable to take many of the bold steps needed to repair the damage of the Trump era.
Following months of sustained advocacy, we succeeded in pushing President Biden to nominate public-interest champions to both the FCC and the Federal Trade Commission, and in December the Senate confirmed Jessica Rosenworcel as the FCC's permanent chair. But Republican senators and industry lobbyists are doing everything they can to derail longtime public-interest ally Gigi Sohn's confirmation as the fifth FCC commissioner.
There's so much we need the FCC to do. This includes ensuring the billions being invested in broadband actually reach those who need it most, restoring open-internet protections, reckoning with the agency's history on race, and strengthening our communications infrastructure so it can withstand the climate emergency. But none of this vital work can happen until the Senate confirms Biden's nominee.
We're pushing the Senate to confirm Sohn without further delay. We mobilized more than 200 organizations from across the political spectrum — including leading civil-rights, community-media, media-justice, workers-rights and consumer-advocacy groups — to publicly express support for her.
Republicans have also delayed the confirmation of professor and privacy advocate Alvaro Bedoya (a former Free Press board member) as the fifth FTC commissioner — the deciding vote on any meaningful policy. The FTC is poised to take long-overdue action against the deceptive and harmful practices of companies like Facebook and Google. We need a fully staffed agency to promote competition and protect internet users and others from the predatory practices of data brokers and massive platform companies. 
In February 2022, the Senate Commerce Committee finally advanced the nominations of Sohn and Bedoya. This is a critical step forward, and a testament to our hard work. We will continue pushing the Senate to confirm both of these stellar nominees as soon as possible.
FIGHTING HATE AND DISINFORMATION
The deadly attack on the U.S. Capitol in January was a painful reminder of what can happen when companies like Facebook, Twitter and YouTube enable and amplify users who incite violence and spread hate, conspiracy theories and disinformation.
Long before the Jan. 6 insurrection, Free Press pushed social-media companies to combat hate and disinformation. We helped lead the Stop Hate for Profit ad boycott, which inspired more than 1,100 major companies to suspend advertising on the platform, and we co-founded Change the Terms, a coalition that calls on the platforms to adopt model policies we developed to crack down on hateful content.
Our efforts have yielded numerous concrete changes. After years of pressure from Free Press and our allies, Twitter finally banned Trump, who fueled the insurrection and had long used his account to target people of color, immigrants, religious minorities and other communities.
Facebook initially suspended Trump "indefinitely" and later changed his suspension to a two-year ban in response to our organizing with Change the Terms and other coalitions. We're urging the company to permanently ban Trump and to close a loophole that's allowing a Trump PAC to fundraise and organize on his behalf.
In September, a mobile billboard demanding that Facebook ban ads from Trump's PAC circled the company's D.C. headquarters and Capitol Hill. We organized this action alongside Common Cause and delivered 140,000 petition signatures to CEO Mark Zuckerberg and COO Sheryl Sandberg.
Just a few days later, a former Facebook data scientist released tens of thousands of pages offering hard proof that the company cares far more about its profits than the safety of its users. The whistleblower's powerful testimony before the Senate also confirmed what we've long known: The company does very little to moderate languages other than English. "There is a very racist element to the lack of investment," Jessica J. González told Democracy Now!
Following the insurrection, we were involved in direct talks that pressured Google and Amazon to boot the dangerous right-wing app Parler for promoting election lies. We also helped push Discord, Instagram, Reddit, Shopify, Snapchat, Spotify, TikTok and Twitch to either suspend Trump or restrict his access.
This is major progress, but social-media platforms must do much more to crack down on hate and disinformation. And these problems are even worse in languages other than English. 
On Facebook and YouTube, Spanish-language disinformation about the election, the pandemic, vaccines, climate change and other crucial issues runs rampant.
"Facebook is leaving out the millions of people who speak Spanish at home by failing to apply its community standards equally," Associate Legal Director and Senior Counsel Carmen Scurato told The Guardian. "If you say you are making efforts on your platform for the safety and health of all of us, that has to also include the Latinx community."
The company has long ignored our demands that it address this crisis. That's why in March we launched #YaBastaFacebook (enough already, Facebook) — a campaign urging Facebook to fix its Spanish-language content-moderation gap. We released a detailed action plan that calls on the company to implement four key reforms, including publicly sharing the materials used to train moderators of Spanish-language content. Later in the year, a blockbuster front-page investigation in The Los Angeles Times highlighted the work of Co-CEO Jessica J. González and others to hold Facebook accountable for its failures on this front.
We also worked with a producer to help shape a segment on Last Week Tonight with John Oliver. The story, which aired in October, highlights how social-media companies and instant-messaging apps have ignored non-English misinformation that clearly violates platform rules.
Free Press Action and Sen. Ben Ray Luján co-hosted a roundtable that delved into the non-English disinformation crisis and explored solutions. The event featured remarks from Luján, Sen. Amy Klobuchar, Rep. Tony Cárdenas and FTC Commissioner Rebecca Kelly Slaughter, as well as a range of public-interest leaders and disinformation experts.
Meanwhile, U.S. Surgeon General Vivek Murthy released a report confirming the health threats of online misinformation. These lies have led people to refuse COVID-19 vaccines, reject masks and use unproven treatments for the virus. The report underscores the role social-media companies play in promoting misinformation and endangering lives: Like Big Tobacco companies, tech platforms continually put profits over the health and safety of their users. We're calling on Congress to heed the warnings in Murthy's report and hold the platforms accountable.
We're urging Congress and the Biden administration to adopt our policy solutions, which include federal privacy legislation, rules against abusive data-collection practices, and a tax on online advertising that would support noncommercial journalism. We're committed to doing everything we can to ensure that policymakers finally take action and stop Facebook and other social-media companies from undermining democracy and harming millions of users around the globe.
We also worked with Sen. Ed Markey and Rep. Doris Matsui to help shape the Algorithmic Justice and Online Platform Transparency Act. This bill would prevent social-media companies from using algorithms to discriminate in hiring, housing, lending and other areas of opportunity. It would also compel the federal government to develop and update regulations around unfair and deceptive advertising practices by technology platforms. We're meeting with congressional offices to build support for this important legislation.
We're also calling on the FTC to take action. We mobilized a coalition of 45 groups that called on the agency to craft rules that would safeguard privacy, promote civil rights and set guardrails against the abuse of data online. "As people in the United States are learning more and more about how platforms are abusing their data," said Carmen Scurato, "they should also know that the FTC has the authority to act right now to protect them."
In December, we testified before Congress in two key tech hearings. Matt Wood testified about possible reforms to Section 230, a law that shields websites from legal liability for the material users post. Section 230 also enables sites to moderate content that violates their community standards. "Without [Section 230] protections, we'd risk losing moderation and risk chilling expression too," Wood told the committee. "That risk is especially high for Black and Brown folks, LGBTQ+ people, immigrants, religious minorities, dissidents, and all ideas targeted for suppression by powerful people willing and able to sue just to silence statements they don't like."
In a hearing on "Disrupting Dangerous Algorithms," Jessica J. González urged lawmakers to regulate companies like Facebook that have allowed hate and disinformation to proliferate. "Tech firms are unwilling and unfit to effectively self-govern," she said. "They've amplified lies about COVID and vaccines, served up housing and employment ads in discriminatory ways, amplified voter-suppression campaigns launched by foreign state actors and discouraged participation in the U.S. Census. They've targeted abuse at people of color, and have done a particularly poor job of addressing these problems in languages other than English."
We're one of the leaders of the Disinfo Defense League, a national network of organizers, researchers and policy experts. The DDL released a detailed policy platform in December that calls on policymakers to adopt digital-privacy legislation and combat disinformation targeting BIPOC communities.
The hate and disinformation that are so prevalent online often originate on right-wing propaganda networks like Fox News, Newsmax and One America News Network (OANN). We had a big win when we helped push DIRECTV to drop OANN, which regularly airs disinformation about vaccines and the 2020 election. "We welcome the news that DIRECTV has made the decision to stop carrying OANN," said Free Press' Nora Benavidez, "especially knowing millions of viewers will no longer be subsidizing this hateful and dishonest content with their monthly pay-TV bills."
ORGANIZING FOR MEDIA REPARATIONS
In 2020, Free Press' Black staff — led by Alicia Bell, Joseph Torres and Collette Watson — launched the groundbreaking Media 2070 project, which seeks to create a future in which Black people control the creation, production and distribution of their own stories. The centerpiece of the project is Media 2070: An Invitation to Dream Up Media Reparations, a visionary 100-page essay examining the history of anti-Black racism in the U.S. media system.
In 2021, this work continued with a series of powerful online gatherings about the fight to secure media reparations and build an equitable media system. Events included a month-long celebration of Black narrative power; a commemoration of the 100th anniversary of the Tulsa Race Massacre with Black journalists and activists in Oklahoma; and a conversation between Torres and MediaJustice founder Malkia Devich-Cyril about how the media system fuels anti-Black oppression.
In June, Media 2070 delivered a petition to 3,000 newsrooms across the country that calls on outlets to dismantle anti-Black racism, trust Black journalists and care for Black communities. So far 40 journalism organizations — including CUNY's Craig Newmark Graduate School of Journalism, Scalawag Magazine, the Tucson Sentinel and WURD Radio — have signed the pledge.
But newsrooms alone are not responsible for the systemic racism that exists in our media system. It's also crucial for the FCC to reckon with its troubled history. Our work spurred 25 members of Congress — led by Reps. Jamaal Bowman, Yvette Clarke and Brenda Lawrence — to send a letter urging the FCC to investigate how its policy choices and actions have harmed Black people and other communities of color. Media 2070 also mobilized more than 100 organizations and community leaders to join this call to the agency.
FCC Chairwoman Jessica Rosenworcel issued a statement in response: "I recognize we can't build a better, more equitable future without a reckoning of how our past continues to influence our present and how too many communities continue to be overlooked and underserved," she said.
Media 2070 celebrated its one-year anniversary in October, and Alicia Bell and Joseph Torres marked the occasion with a powerful Hollywood Reporter Op-Ed about the struggle for reparations. With the addition of Venneikia Williams to the team, Media 2070 is continuing to forge new partnerships and host impactful events.
TRANSFORMING LOCAL NEWS
In 2021, Free Press' News Voices team made remarkable progress in efforts to foster more equitable and community-centered local news.
Civic Info Consortium: Six years ago, Free Press Action came up with the concept of a publicly funded nonprofit that would support local news in New Jersey. We turned that idea into legislation, built bipartisan support, passed the bill by an overwhelming majority in the statehouse — and the New Jersey Civic Info Consortium was born.
In 2020, New Jersey announced it would invest $500,000 in the consortium — and in 2021 the consortium's board (which includes Free Press' Mike Rispoli) announced its inaugural round of grants to local news-and-information initiatives. This milestone was the result of Free Press Action's years-long efforts to engage local journalists, organizers, advocates, residents and lawmakers to support public funding to foster more informed communities.
The 14 grantees, which received grants of up to $35,000 each, will undertake projects to keep communities informed, spark civic engagement and counteract the spread of disinformation and bigotry. More good news came in June, when the state doubled its commitment to the consortium with a $1-million investment in the FY2022 budget.
News Voices: New Jersey: We're working with community members and journalists in Atlantic City, Camden and Newark to facilitate equitable access to information.
This work is taking many forms. News Voices Director Vanessa Maria Graber worked with Chalkbeat and the Newark News & Story Collaborative on a project that highlighted youth information needs and experiences during the pandemic. We also created a collaborative training project for Latinx journalists that focuses on information needs and community engagement. And we launched two statewide collaboratives: One is a cohort of hyperlocal community-journalism projects and the other is an effort focused on visioning the future of journalism in New Jersey.
News Voices: Philadelphia: Together with our partners on the Shift the Narrative Project, we're working to transform coverage of the criminal-legal system in Philly. Much of that work has centered on The Philadelphia Inquirer. The paper's failures came into focus in 2020 when it published an article with the racist headline "Buildings Matter, Too." The outrage that greeted this headline prompted the paper to kick off a self-assessment, and we're playing a key role in this process: We're helping the Inquirer examine its historically problematic coverage of public safety, policing and trauma and devise ways to craft more equitable reporting.
We're also continuing to build relationships with local activists and organize within newsrooms throughout the city to lay the foundation for significant change. 
News Voices: Colorado is working to train newsrooms on engaging BIPOC communities. News Voices: Colorado Manager Diamond Hardiman convened the Black Voices: Colorado and Latinx Voices: Colorado working groups, which each focused on how to hold newsrooms accountable and improve access to trustworthy news and information. In September, the Black Voices working group held a series of events and released an in-depth report with recommendations on how to repair decades of harm that news outlets have inflicted on Black communities. In November, the Latinx Voices group released its own report, which focuses on ways to diversify newsroom coverage, redistribute resources into the hands of Latinx storytellers and invest in young Latinx media-makers.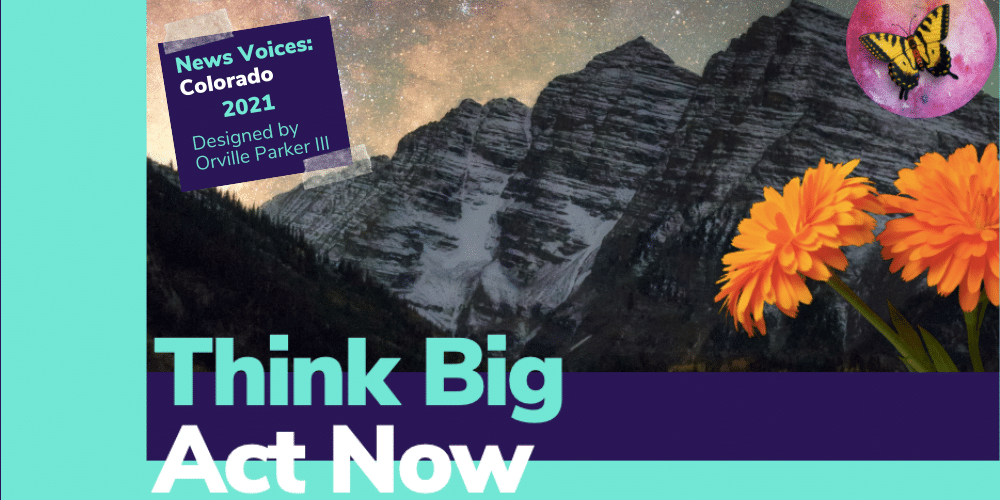 News Voices: North Carolina is partnering with Black-led organizations such as Liberation Ventures, NC BLOC and the NC Media Equity Project to convene local stakeholders, identify reparative interventions and boost access to equitable local news. In September, we facilitated a listening event with partners and journalists to get feedback from BIPOC residents on how to ensure news coverage represents the state's diverse communities. We also co-facilitated two bilingual listening sessions at North Carolina public-radio station WUNC: one about transforming coverage of education and one about youth and the arts.
CRAFTING JOURNALISM POLICY
The pandemic has worsened a longstanding crisis that has left communities across the country without trustworthy local news. In 2020, we led the call for a journalism recovery, and in 2021 we continued to advocate for public support of quality local journalism.
We're seeing growing numbers of lawmakers introduce legislation in response to the local-news crisis. As analysis from Co-CEO Craig Aaron and Derek Turner shows, some of the bills would benefit existing media giants — the very same companies that have gutted local newsrooms, spread disinformation and profited from runaway media consolidation. We're fighting for legislation that both addresses the current crisis and points toward a sustainable and just future. We're urging lawmakers to double funding for public media, create civic-info funds in all 50 states, and tax targeted online ads to fund responsive local news.
In December, we launched the Media Power Collaborative, which is bringing together media workers, movement organizers and researchers to figure out next steps for the future of journalism. The goal is to win transformative public policies that create and sustain more informed and equitable communities. 
DEFENDING PRIVACY AND COMBATING SURVEILLANCE
In 2020, we blocked reauthorization of the Patriot Act — and in 2021, we continued fighting expansion of the surveillance state.
Lawmakers introduced the Fourth Amendment Is Not for Sale Act, which we helped shape. This bipartisan bill would close major loopholes in federal privacy laws and prevent government agencies from buying people's personal information from data brokers without a warrant. The legislation is a much-needed response to repeated government abuses that have targeted immigrants, people of color and religious minorities. In 2022, we're renewing our calls for hearings on this important legislation.
We also mobilized support for the Facial Recognition and Biometric Technology Moratorium Act, which would ban police use of these discriminatory technologies. And in response to pressure from Free Press and allies, Amazon indefinitely extended its ban on selling such tech to police departments.
In February, we co-hosted a congressional briefing on surveillance alongside MediaJustice, the ACLU, Color Of Change and Rep. Rashida Tlaib, which explored how government agencies have long exploited crises like the Jan. 6 insurrection to justify the use of surveillance technologies and policing tools that disproportionately harm Black and Brown communities.
Alongside this event, we delivered more than 100,000 petition signatures demanding that Congress end the FBI's "Black Identity Extremist" designation and #ProtectBlackDissent by investigating FBI and police use of surveillance tech against communities of color.
CHAMPIONING RESILIENT NETWORKS
In 2020 — in response to our research and advocacy — Rep. Frank Pallone asked the Government Accountability Office to investigate the Trump FCC's failure to adequately respond to the destruction of communications networks in Puerto Rico following Hurricanes Irma and Maria in 2017. And in 2021, the GAO released its report, which criticizes the Trump agency's lack of transparency and its failure to engage with communities on the islands. We're urging the Biden FCC to do what its predecessor refused to do: Launch an independent investigation into the roots of the months-long communications blackout.
Our advocacy for resilient communications networks is taking on renewed urgency as the climate crisis intensifies. After Hurricane Ida left large swaths of Louisiana without reliable cellphone services and the region's 911 call center lost power for 13 hours, we called on the FCC to ensure that communications infrastructures everywhere can withstand climate disasters.
GETTING THE WORD OUT
We had 3,200 press hits in places including the Associated Press, Bloomberg, CNN, Democracy Now!, The Guardian, The Los Angeles Times, MSNBC, NPR, Poynter and Wired. We placed 28 Op-Eds on topics ranging from Spanish-language disinformation to the movement for reparations.
To stay up to date on our work, you can follow Free Press on Facebook and Twitter.
FUND THE FIGHT
Your generosity makes our work possible: Please give what you can today to make sure we have the resources we need to keep fighting for equitable media policies that improve people's lives.
You can support us by making a donation online or by mailing a check to P.O. Box 60238, Florence, MA 01062. You can also make a contribution through a donor-advised fund, a gift of stocks or securities, or a planned gift. For more information, please visit other ways to give or reach out to us.
Thank you!
ABOUT US
Free Press was created to give people a voice in the crucial decisions that shape our media. We seek to change the media to transform democracy to realize a just society. Learn more about our mission.
Learn more about our amazing staff and board.
Please note: We will post financial information for 2021 when it becomes available in spring 2022.
Free Press and Free Press Action are nonpartisan organizations fighting for your rights to connect and communicate. Free Press and Free Press Action do not support or oppose any candidate for public office.