Virtual Town Hall Focuses on Racism in the Media
Free Press and Color Of Change hosted a virtual town hall on Thurs., March 8, to discuss the 50th anniversary of the Kerner Commission report and the role the media has played in creating racial divisions in our country.
The town hall featured Black Lives Matter co-founder Patrisse Cullors, Center for Media Justice Executive Director Malkia Cyril, Color Of Change Senior Campaign Director Brandi Collins, Generation Justice Director Roberta Rael and journalist Rinku Sen.
The virtual town hall was part of a collective effort by a small group of media makers of color who were brought together by Free Press in Washington, D.C., last December to discuss how to address racial inequities in our media system. The group decided to use the 50th anniversary of the Kerner Commission Report to tell the story of race and the media.
So far, the media makers who took part in the gathering have produced four columns, an hour-long radio program, visual images and a poem. Generation Justice devoted its weekly radio program to discussing the Kerner report. The program included an interview with former Sen. Fred Harris, the last living member of the Kerner Commission.
Colorlines published three of the four columns produced by members of the media makers alliance. This included a column by Janine Jackson, the program director for Fairness and Accuracy in Reporting, who discussed how the mainstream news media have failed to live up to the Kerner Commission's recommendation that the industry hire more Black journalists.
Colorlines also published a column by its former publisher, Rinku Sen. Sen wrote about the important contributions media makers of color have made to their profession and their communities.
Colorlines also published my Op-Ed on the role structural racism in the media played in the uprisings that preceded the Kerner Commission, and how this racism persists to this day.
Damon Davis, a visual artist and co-director of the acclaimed documentary Whose Streets?, created several visual graphics incorporating black-and-white images from the 1967 uprisings to accompany the three Colorlines articles: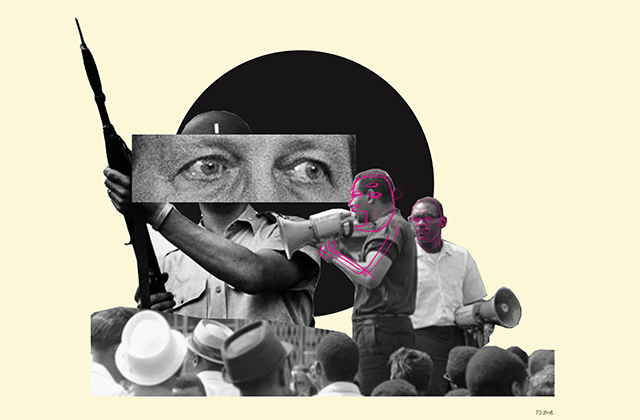 Journalist Lori Robinson wrote a personal essay for the Progressive on the ways journalism today isn't serving the needs of the Black community. Nadine Marshall of the Allied Media Projects wrote a poem reflecting on the circumstances that led to the 1967 uprisings in Detroit.
Watch the powerful town-hall discussion here: