Super Bowl Advertisers Come Face to Face with Musk's 'Hellscape'
New research by the Center for Countering Digital Hate (CCDH) offers the latest chapter in the rapid demise of Elon Musk's Twitter: Major advertisers — including those featured during the Super Bowl — are paying the social network millions of dollars to drag their brands through the platform's toxic sludge. 
The research features screen grabs of instances where Twitter has displayed ads from brands including Amazon, Apple TV, Merrill Lynch, the NFL and Prime Video next to tweets from self-proclaimed neo-Nazis and others known for publishing hateful content and dangerous conspiracy theories. It's a rogues' gallery that includes misogynist and suspected sex-trafficker Andrew Tate, white supremacist Andrew Anglin, disinformation website Gateway Pundit and COVID conspiracy theorist Rogan O'Handley (aka "DC Draino").
Musk reinstated each of the 10 inflammatory accounts that CCDH surveyed after he took control of Twitter last fall — even though each had previously committed multiple gross violations of Twitter policies designed to protect users from the spread of  hate and disinformation.  
The Twitter exodus
Musk's takeover of the platform met with a public outcry at the end of 2022 as he rolled back user protections, laid off (or chased out) nearly three-quarters of Twitter's staff, and threatened to "name and shame" advertisers who joined the mass exodus.
More than 600 advertisers have abandoned the platform, fearing that their brands wouldn't be safe under Musk's erratic leadership. Their departure resulted in a 70-percent drop in Twitter's December revenue over the previous year, according to Standard Media Index. 
Twitter and Musk were counting on Super Bowl-related ad buys to stop the hemorrhaging of dollars and help the company meet its interest obligation to the banks that financed Musk's $44-billion purchase of the platform. But many of these brands are reluctant to return to Twitter without conditions.
According to Erin Woo at The Information, some Super Bowl advertisers have tucked language into their Twitter contracts that allows them to cancel their ad deals if Musk undermines preexisting Twitter policies "designed to protect advertisers from having their ads run against unsavory content."
JLo, Chalamet and the 'hellscape'
The CCDH research documents Musk's failure to meet this condition: Amazon Prime Video ads appear next to sexist content; Peacock-TV ads appear adjacent to racial slurs; Apple TV ads run up against Russian propaganda; and an NFL Super Bowl promotion runs adjacent to some of the most misleading COVD disinformation.
And this is just the tip of the hellscape. CCDH surveyed only 10 of the thousands of bad actors that Musk has reportedly invited back to Twitter since he took the helm. 
Researchers looked only at ads from eight companies. According to the analysis, continuing to place these ads next to the accounts of these 10 bad actors alone could generate up to $19 million in annual advertising revenue for Twitter. In other words: Major advertisers are giving Musk millions to place their brands adjacent to Twitter's most toxic content.
In one example, an Amazon Prime ad promoting a film starring Jennifer Lopez appears next to a tweet from neo-Nazi Andrew Anglin in which he claims that the "only career that a woman is actually capable of on merit is prostitution."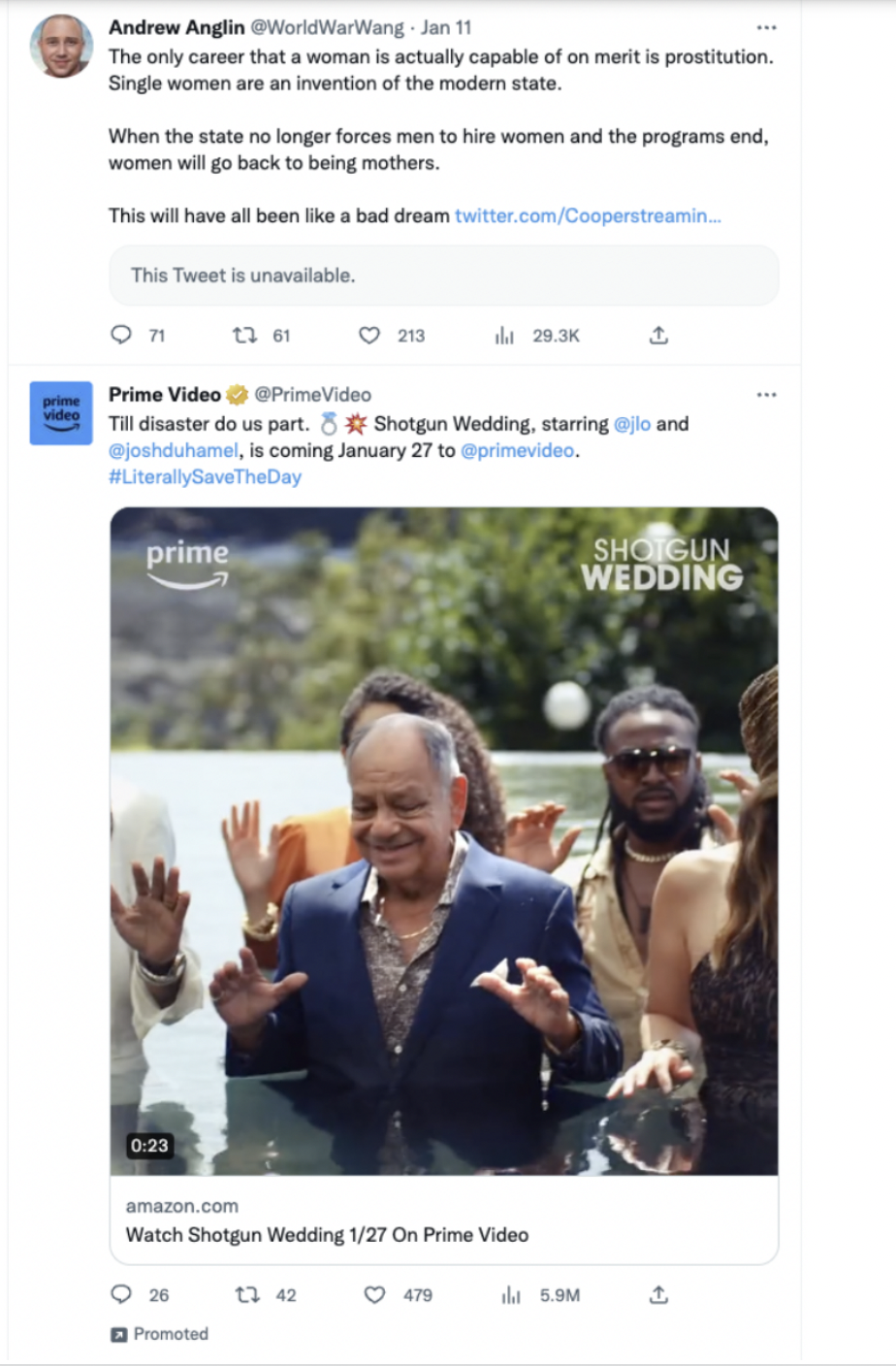 In another, an Apple ad featuring actor Timothée Chalamet is displayed next to a tweet in which conspiracy theorist Rogan O'Handley promotes the debunked claim that Ukraine was developing biological weapons with the assistance of the U.S. government.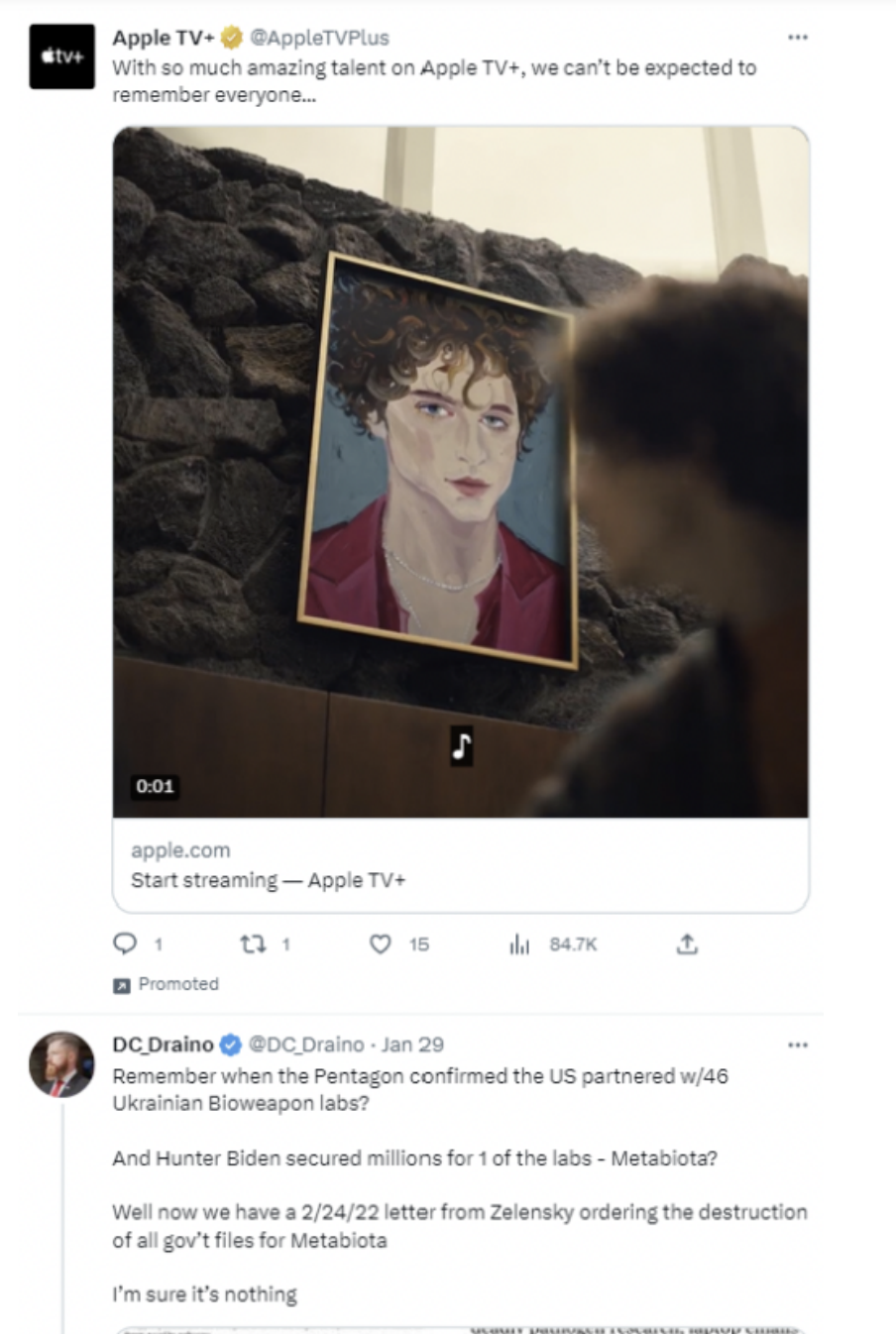 When the #StopToxicTwitter campaign formed last year, we called on Twitter advertisers to pause advertising on the platform unless and until Musk enforces common-sense guardrails that will protect the health and safety of users. 
Content moderation is good business
In failing to do this, Musk is ignoring a fundamental truth: to grow healthy and profitable online communities, you need effective content moderation.

If Twitter becomes insolvent — which seems more likely by the day — it'll be because Musk lacks this basic business sense about social media, and refuses to learn from the years of mistakes and (occasional) fixes made by his predecessors at Twitter, Meta, YouTube and other platforms.
"It's kind of a rite of passage for any new social media network," writes Mike Masnick about the content-moderation learning curve. "They show up, insist that they're the 'platform for free speech' without quite understanding what that actually means, and then they quickly discover a whole bunch of fairly fundamental ideas, institute a bunch of rapid (often sloppy) changes … and in the end, they basically all end up in the same general vicinity."
"Brands shouldn't let their money fuel Twitter's toxicity," said Free Press Co-CEO Jessica J. González. "They must act now by putting their money where their values are — and not in the hands of Elon Musk and his dangerous band of liars and extremists."

In his desperation to turn things around at Twitter, Musk remains reluctant and unwilling to make the changes that would help gain more trust from the platform's users and ensure the safety of its advertisers' brands.
"Companies that continue to play his game are only hurting their own brand and bottom line," said Nicole Gill, executive director of Accountable Tech. "It's time for companies to stop funding Musk's toxic Twitter. Full stop."
Given the strong Super Bowl presence of Apple and the NFL, the #StopToxicTwitter coalition will focus increased public pressure on these two companies, urging them to join the exodus of advertisers.
These and other brands have an enormous influence on Musk. They must step up to teach him a lesson: Twitter's business will live or die on the decisions he makes or doesn't make about content moderation. Those few advertisers that remain are complicit in the extremism and lies that are taking over Musk's Twitter.
---
Donate today to help Free Press continue to hold Musk accountable. Your support will help us ramp up this vital campaign.