The Racial Digital Divide Persists
Two years ago Free Press released a landmark report, Digital Denied, which showed that disparities in broadband adoption — commonly known as the digital divide — stem not only from income inequality, but from systemic racial discrimination.
A racial digital divide
The report, written by Free Press Research Director S. Derek Turner, found that nearly half of all people in the country without home-internet access were people of color.
Much of that gap was indeed the result of income inequality. People of color generally have far lower average incomes than white people, and low-income families often cannot afford to subscribe to home broadband.
For example, our research showed that only 54 percent of people with annual family incomes below $20,000 had internet in the home, compared to nearly 90 percent of people with family incomes above $100,000.
This is no surprise. Broadband access is typically expensive, with prices constantly on the rise and practices like tier-flattening hollowing out affordable options. Contrary to certain policymakers' condescending claims that marginalized communities simply don't understand the value of broadband, our research found that disconnected people of color have a high demand for internet access, but often can't afford to subscribe.
But even when we accounted for these differences of income and other demographic factors like education and employment, a racial digital divide still persisted. Even among the same income brackets, Blacks and Hispanics still lagged behind Whites in broadband adoption.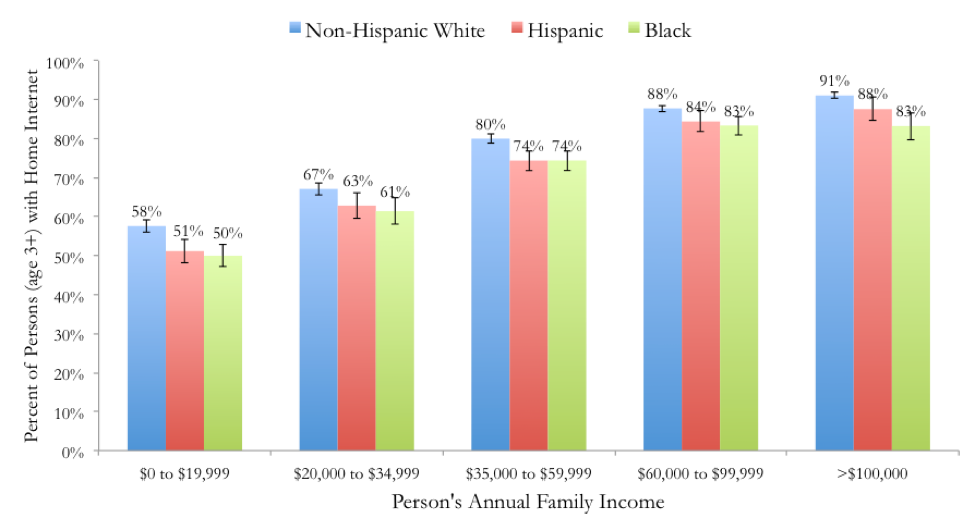 Based on average incomes, we should have expected 69 percent of Hispanic households and 68 percent of Black households to have home internet, but the actual adoption levels for these populations were 66 percent and 62 percent respectively.
So if it's not all about income, where does this remaining racial gap come from? Our research shows it's likely a series of systemic barriers that impact supply and demand for these communities, including ISPs' use of credit checks and differences in exposure to internet access in schools and workplaces.
Digital Denied confirmed what marginalized communities across the country have long understood: The lack of affordable internet options is stranding too many people of color on the wrong side of the digital divide — and even those who could afford to subscribe face racially biased structural barriers that prevent them from doing so.
What's changed? Not enough
Since the report's release, further research has demonstrated the need for affordable options — but has devoted little attention to the impact of racial inequities.
The Pew Research Center published a survey last February showing that low-income families as well as Black and Hispanic adults were significantly less likely than more affluent groups and white people to adopt home internet, but Pew chose to focus its publications more on the comparatively smaller rural-urban divide.
Similarly, the U.S. Census Bureau released county-level internet-subscription data for the first time just last week, highlighting disparities between rural and urban counties as well as disparities between poor and affluent ones — yet skipping over any analysis of the racial divide.
Rather than build on Digital Denied's evidence of structural racial disparities, much of the conversation about the digital divide has been a business-as-usual discussion about rural deployment. Those issues are real, but not as significant as the adoption gap for low-income people and communities of color.
Erasing these facts has real costs.
For example, our research found that the racial digital divide is far smaller for mobile access than for wired broadband. In fact, after accounting for income and other factors, we found the mobile gap is practically nonexistent.
A major reason for this difference between wired and mobile is that the mobile market is more competitive (for now), with incumbent providers and resellers offering lower-cost plans with no credit checks, and specifically marketing them to low-income families and people of color.
But no such plans exist for wired-broadband options with higher capacity and faster speeds than wireless, like cable or fiber. If you want wired home internet, you have to pass a credit check — and credit checks have long fueled racial discrimination.
This is exactly the type of market failure to expect from a wired-broadband industry dominated by a duopoly of powerful companies — usually one cable company and one phone company, at most, providing service to an area.
But instead of trying to fix it, our policymakers have sent a signal that mobility crumbs are good enough for people of color who can't afford expensive wired services or can't clear the credit-check hurdle — even though mobile broadband is less reliable, less robust and sometimes subject to restrictive data caps.
Our report showed that rarely discussed factors like credit checks can systematically bar marginalized populations from adopting broadband and thus exacerbate the digital divide. To close the divide requires a commitment to finding these types of systemic disparities through extensive research — and eradicating them with good policy.
But so far, our leaders have given us bromides or worse.
Failure at the FCC
At the Federal Communications Commission, Chairman Ajit Pai's policies continue to lead us down the wrong path.
In the two years since Digital Denied was released, Pai has gutted the FCC's authority over broadband by wrongly reclassifying internet access as a Title I service. Pai has also pushed a proposal to eviscerate the Lifeline program, the only federal program that subsidizes basic phone and internet access for extremely low-income families — all while sabotaging the program's modernization efforts.
On top of that he's offered massive deregulatory handouts to big ISPs with no requirements to reinvest in underserved areas, and failed to meaningfully investigate the communications crisis in Puerto Rico post-Hurricanes Irma and Maria.
Pai claims that closing the digital divide is his "number one priority," but his actions say just the opposite.
Giving ISPs every deregulatory goodie imaginable under the false guise of promoting Cadillac-level fiber deployment, while punishing the millions of poor people who can't afford to subscribe to basic broadband service that's already been deployed, is a cruel joke. Every step Pai's taken in his blatant war on the poor has further cemented the devastating racial and income inequities that prevent disempowered communities from fully embracing the digital future.
And there are new threats on the horizon: T-Mobile and Sprint want to merge, a move that would slash competition and raise prices — particularly for people of color, who disproportionately rely on the smaller carriers' more competitive and affordable mobile plans. If the FCC greenlights this merger, the mobile-broadband market could start to look a lot more like the wired market, where systemic racial discrimination still keeps people of color offline.
We cannot afford to keep ignoring the racial digital divide. Digital Denied exposed how lack of affordability, insufficient competition and structural racism are systematically blocking our most vulnerable communities from accessing the benefits of the internet. It's time for researchers to refocus our efforts on exploring these intersections of affordability, access and race.
And it's long past time for policymakers to shift away from cynical proposals that prioritize industry profits — and embrace real solutions that center the needs of people of color and low-income communities.