Fiber to the Clubhouse: Pai Subsidizes Broadband for the Rich
Note: This is part one in an ongoing series. Be sure to check out the subsequent posts:
Part 2: Broadband Boondoggle: Ajit Pai's $886M Gift to Elon Musk
Part 3: Space-X Broadband: Coming to an Empty Traffic Island Near You
Part 4: Ajit Pai's Broadband Legacy: Haste and Waste
Part 5: Plan Fail: How Pai Imperiled a Rural Town's Fiber Network
Part 6: Good News: Mass. Muni Fiber Spared from FCC RDOF Blunder
Part 7: Why Elon Musk Is No Longer Getting $886M from the FCC
---
The Pai FCC took a victory lap this week when it announced the results of a $9.2-billion reverse auction that is supposed to bring broadband to over 5.2 million unserved homes and businesses. This Universal Service Fund (USF) effort, fitted with its own funny acronym, "RDOF" — the Rural Digital Opportunity Fund — is a continuation of the broadband reforms to the USF started by the Obama-era FCC.

Announcing the winning bidders, Pai said:

"I'm thrilled with the incredible success of this auction, which brings welcome news to millions of unconnected rural Americans who for too long have been on the wrong side of the digital divide . . . We aimed for maximum leverage of taxpayer dollars and for networks that would meet consumers' increasing broadband needs, and the results show that our strategy worked. This auction was the single largest step ever taken to bridge the digital divide and is another key success for the Commission in its ongoing commitment to universal service."

As they say, emphasis added — though Pai has never been shy about adding his own self-congratulatory emphasis, wrongly taking credit for things that he had no impact on or for his supposed "accomplishments" based on nothing but bogus data.
Here, though, it's worth asking: Did the Pai FCC get it right, the way he's claimed? Is this $9.2 billion in ratepayer dollars being allocated in the most efficient way possible? (It's ratepayers, not taxpayers: USF funds don't come out of our progressive tax system, but a regressive fee system applied to users' bills.)

Is this funding solely helping to bring broadband to people living in "unconnected rural" areas? Is Pai's closing effort here even a success on his own terms?
We took a look, setting aside for the moment our even deeper questions about this rural-first focus. Rural areas are worthy of support, but always get the lion's share of the government's attention, even though there are far more low-income people — in both urban and rural settings  — who have access to broadband already but still don't subscribe.

We started poking around the FCC's maps of winning RDOF bids, and there's enough smoke to suggest a fire. Maybe someone should look into Pai's claims and his results before the checks are mailed!
Pai's priority: closing the golf-course and parking-lot digital divide
The rural digital divide gets almost all of the attention from D.C. policymakers and the FCC (especially this FCC). But the urban divide is far larger in terms of the number of disconnected people. There's no shortage of heart-wrenching articles covering the children who sit outside their local  McDonald's to use its free Wi-Fi to do homework — and that was true even before the pandemic shut down many schools.

So it's always a good thing when policymakers pay attention to what's going on with broadband in urban areas. Despite the program's "rural" first name, some of these RDOF funds are going to urban and suburban areas.

But the Pai FCC has decided that what these urban areas need most is not support for low-income families who can't afford broadband, or more competition that would help ensure the free market works to make prices affordable. No, Mr. Pai thinks that the best way to close the digital divide in urban areas is to subsidize the construction of gigabit networks in rich, densely populated neighborhoods.
See for yourself.
Here's an area that a fixed-wireless company named "California Internet d/b/a Geolinks" will be receiving scarce USF money to serve. This is the luxury Los Angeles county resort Terranea, a popular spot for visitors who want to at least take pictures of oceanside cliffs (and stay in one of the posh rooms if they can afford the $500-per-night fee). This resort is a popular place for SoCal tech companies to hold events, and it would be odd for them to gather in a place without internet access.
But the FCC's maps indicate that the area is at least "unconnected" enough to be eligible for this money, and so Geolinks won its bid to serve five customer locations here. (Full disclosure, I've visited the public restaurant at Terranea and paid $18 for a sandwich so I could enjoy the view. There's already ample connectivity there.)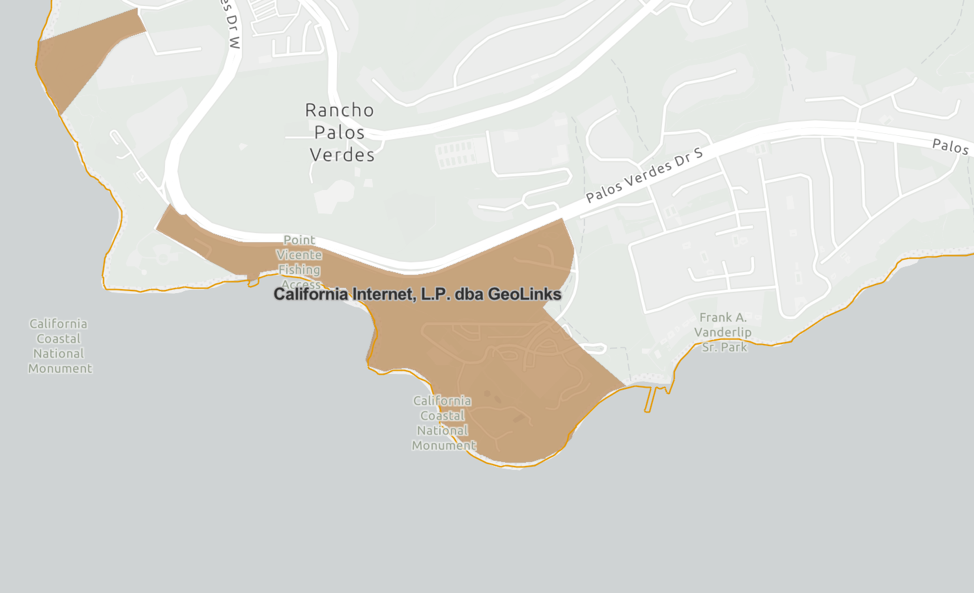 Continuing to play tourist, let's venture north to one of the most-popular destinations for visitors to the L.A. area, Griffith Park. The FCC awarded USF funds to the same company, Geolinks, to bring gigabit broadband to the 16 customer locations in this area that's adjacent to an exclusive golf course and fancy homes.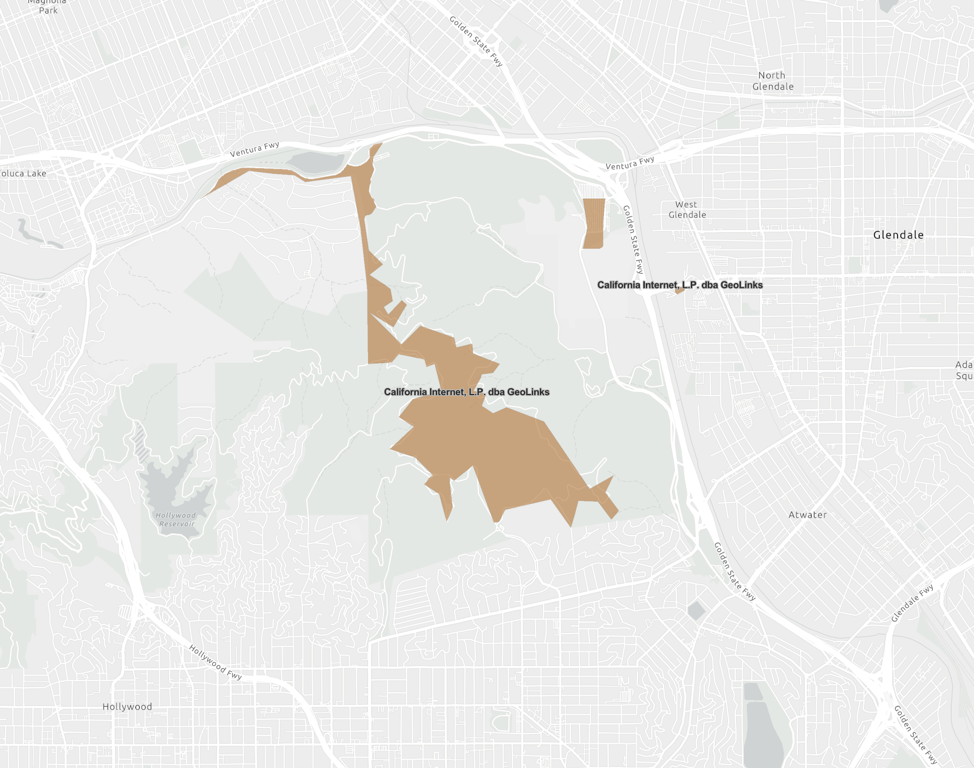 I know, some of you might be thinking: "But there's trees in those places! Maybe the FCC's process thinks trees equal rural?"

Maybe. But let's keep going on our Los Angeles tour.
If you've ever flown into LAX, you know it's nothing but concrete, buildings and traffic aside from a few strategically placed palm trees. Yet here's another small strip of land where Geolinks is getting your money to build gigabit service to a whopping two customer locations. I'm sure Singapore Airlines and  Korean Air are relieved their connectivity nightmare is coming to an end.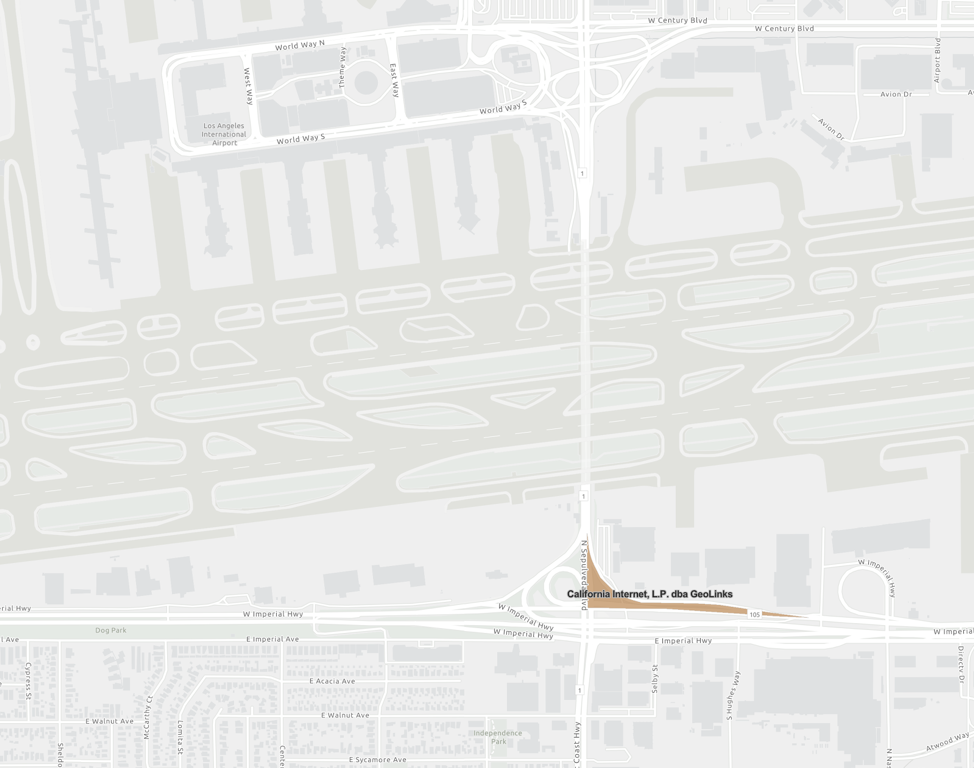 I don't mean to pick on Geolinks. There are a number of areas nearby where cable-company giants Charter and Cox are receiving USF money to build broadband too.
You may have seen some of these locations if you're a fan of Keeping up with the Kardashians or if you follow any of the growing number of TikTok stars who've bought giant estates in the hills above Los Angeles. Here's a small plot of land in Calabasas,  where the average home costs nearly $1.5 million, containing 26 customer locations (and a few swimming pools) that Charter will get RDOF money for: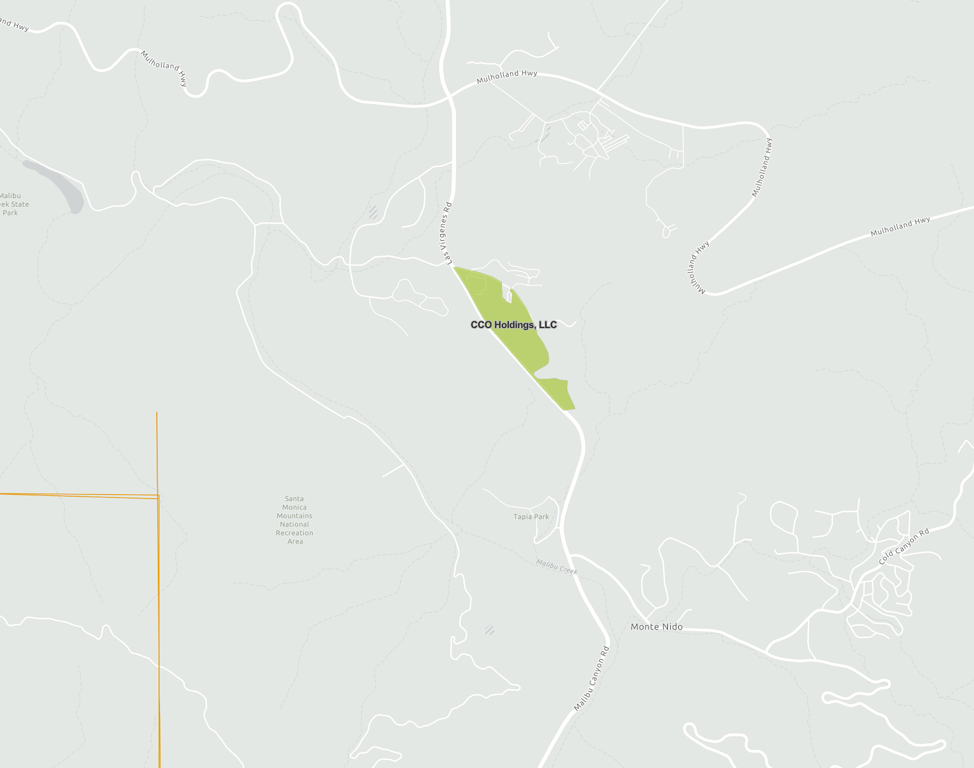 Here's a very small area in Corona Del Mar where cable giant Cox has won RDOF funds to build gigabit broadband. It's just a few minutes away from billionaire Palmer Luckey's giant house, which recently hosted a Trump fundraiser. Unlike the LAX strip and the resort, this one at least appears to have actual homes on it — though they are inside a gated community where presumably broadband is already available. 

Well, I don't want to presume anything, so I checked the FCC's broadband-deployment maps for Corona Del Mar. Turns out there's no reported 25/3 Mbps fixed service available to the five luxury homes on this side of the street. But across the street, Cox already offers gigabit service. I'm not an FCC chair, but I'm pretty sure that — even without this newly won federal-subsidy money — there's a good business case for Cox to extend its service a few dozen feet to these five homes valued at $3 million and higher.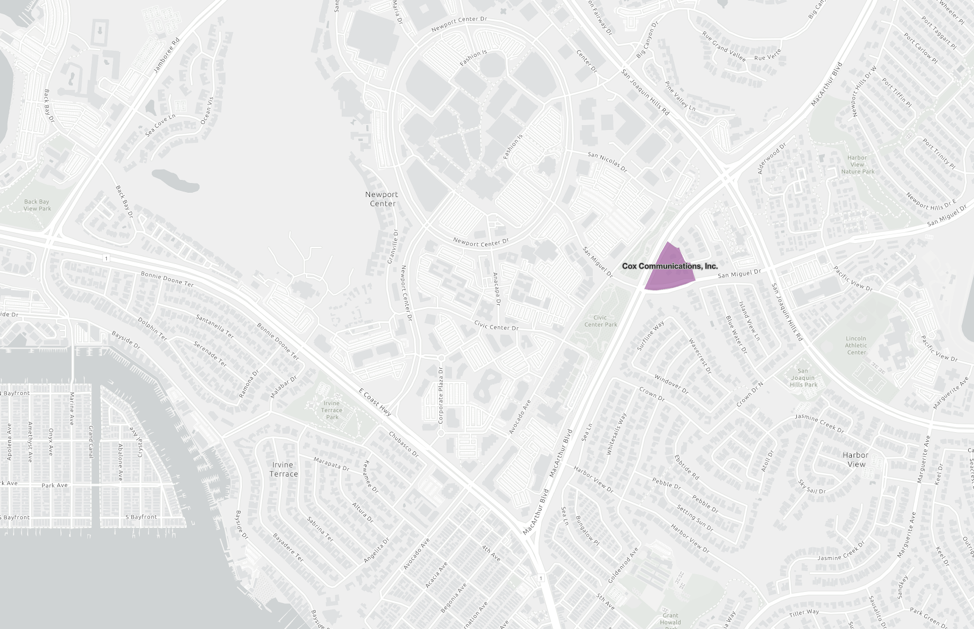 I could do this all day (and you know what, I encourage you to do the same!).
But lest I be accused of West-Coast bias, here's a parking lot outside the Pentagon, where Elon Musk's Starlink is getting scarce ratepayer funds to offer his "coming soon" satellite service, one that he's previously said was intended to bring broadband to the hardest-to-reach rural areas. Apparently Uncle Sam wants you to pay for completely unnecessary satellite-internet service to an urban parking lot a few feet from one of the most connected properties on the planet.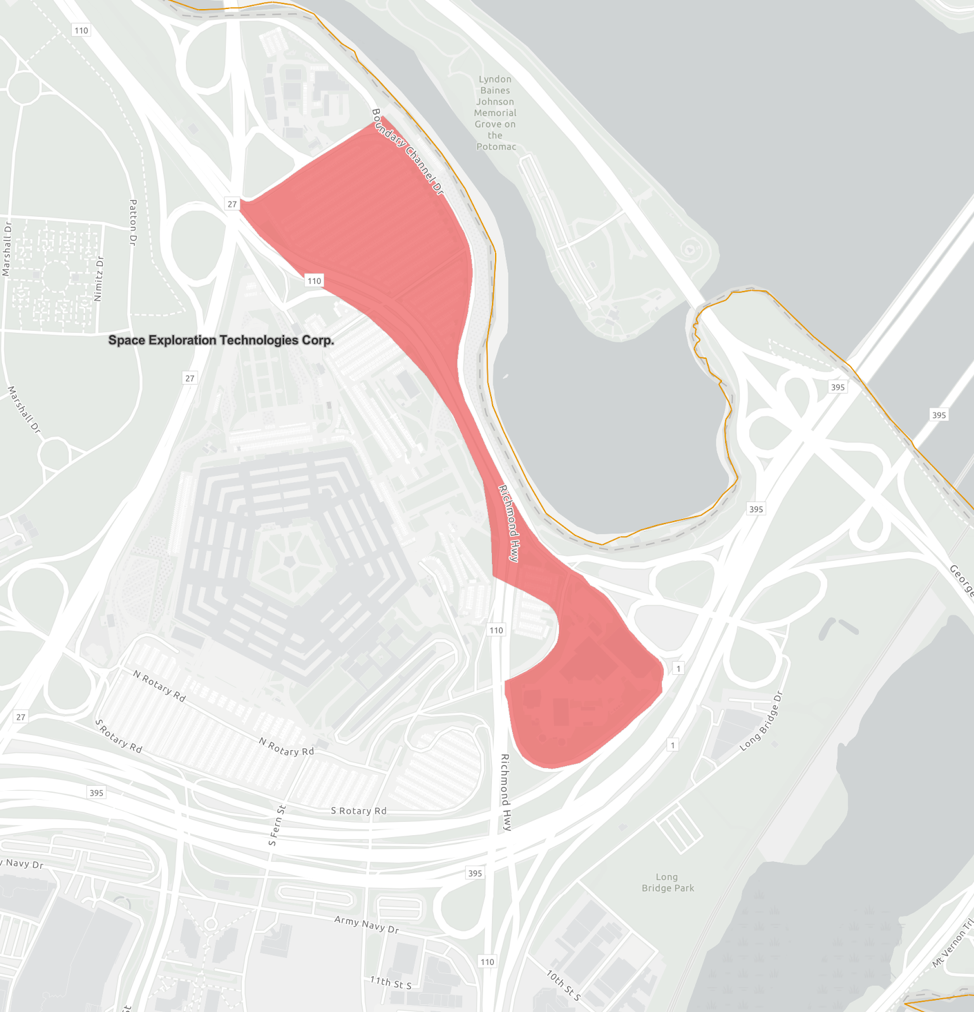 Apparently Ajit Pai considers it "waste, fraud and abuse" only if poor people benefit
This would be funny if this were a mostly harmless story of $640 toilet-seat government excess. But in the zero-sum world of USF, every dollar that is wasted matters very much. If we spend a dollar to subsidize highly profitable companies building broadband in areas where the subsidy isn't needed, that's one less dollar that could go to connecting the nearly 80 million people who can't afford home internet.

These luxury resorts, homes and golf courses are a few miles away from cramped low-income housing developments where many of the residents worry about making rent and whether they can feed their kids three meals a day now that schools are closed. For these families broadband isn't a luxury; it's a necessity.
But Ajit Pai's FCC has continually ignored and exacerbated the plight of the disconnected and underserved poor. He and his FCC sidekick Brendan Carr are far more concerned with the plight of ISPs and wineries than they are for those kids sitting outside McDonald's.
Pai has repeatedly gone after the FCC's already-shrinking Lifeline program, which awards just $9.25 per month in support to the poorest households for a very basic wireless voice-and-data service, and whose recipients are mostly urban dwellers. He and his cronies call Lifeline a bastion of waste, fraud and abuse — but Pai clearly has no problem wasting USF money on Fiber-to-the-Clubhouse.
Pai's time at the FCC is coming to an end. But the likelihood that a GOP-led Senate would obstruct Biden's nominee for the seat Pai will soon vacate is all too high — and that means there's no certainty the incoming FCC will be able to claw back some of these wasteful funds.
Hopefully the FCC's four remaining members will see these (and surely many other) examples of RDOF excess as an embarrassment and act quickly to divert these resources to communities that actually need them.