Broadband Boondoggle: Ajit Pai's $886M Gift to Elon Musk
Note: This is part two in an ongoing series. Be sure to check out the other posts:
Part 1: Fiber to the Clubhouse: Pai Subsidizes Broadband for the Rich
Part 3: Space-X Broadband: Coming to an Empty Traffic Island Near You
Part 4: Ajit Pai's Broadband Legacy: Haste and Waste
Part 5: Plan Fail: How Pai Imperiled a Rural Town's Fiber Network
Part 6: Good News: Mass. Muni Fiber Spared from FCC RDOF Blunder
Part 7: Why Elon Musk Is No Longer Getting $886M from the FCC
---
Last week, we documented how FCC Chairman Ajit Pai's supposed crowning achievement, a $9.2-billion accelerated-subsidy plan to bring broadband to rural areas, was plagued with examples of scarce funds going to build broadband in rich, urban areas.
I have no doubt that a portion of the Rural Digital Opportunity Fund (RDOF) is going to truly needy areas. But I am an advocate for families who can't afford broadband, who have been harmed by the Pai FCC's continual assault on the Lifeline program and who are often forgotten by D.C. politicians who myopically focus exclusively on rural areas. To connect those most in need most often means connecting people to networks that already exist. That's why it's important to expose how the FCC's rush to build new networks has resulted in wasteful spending.
Though I believe solving the rural-deployment problem is important, the roots of that problem are different from the root causes of the digital divide that plagues urban areas. We should be spending more time and, yes, money to address those issues of choice, affordability and high prices that keep tens of millions of people disconnected even when they already have an adequate broadband option in their neighborhoods.
Feature or bug? The RDOF's massive waste is a result of Pai's design
Yet even in terms of fulfilling its own rural-first goals — which has unfortunately been Pai's sole priority — this latest initiative looks bad. Based on our initial estimates, more than $700 million of the $9.2 billion in subsidies were awarded to ISPs for deployment in non-rural areas. And the level of direct waste is in fact likely higher than this, because the RDOF auction's design flaws led to granting subsidies in areas that are already served or could be served without subsidies, both in rural and urban areas. We'll dive into the numbers in greater detail in a forthcoming post.
Pai's RDOF is a giant reshaping of a Universal Service Fund (USF) subsidy program meant to more rapidly close the rural digital divide. But the agency bungled the implementation by sending so much of this scarce USF money — raised through a regressive fee system that disproportionately impacts the poor — to companies that have no plans to serve rural customers. To make matters even worse, much of the funding the FCC directed to urban areas last week isn't for projects that help low-income urban communities in any way.
As we discuss below, many of these areas showed up as eligible for subsidies only because no ISP reported offering fast internet access there — even though they are not technically areas that need USF support.
Some of these areas are just empty plots of land. Some are parking lots. Some are roads adjacent to blocks where gigabit service is already available from multiple ISPs. Some are blocks entirely occupied by large enterprises like airports or universities, which self-provision their own internet access and don't need or take service at these individual buildings and blocks. And some are areas where the cost for an incumbent cable or telco ISP to deploy would be at or below their normal cost, but are occupied by businesses that have no need for super-fast services.
While the FCC continues to ignore the plight of the urban poor, it's giving Elon Musk nearly a billion in subsidies, a significant portion of it to serve urban airports, parking lots and dog parks
As we continued to dig into the data, we were struck by the huge number of random tiny areas in cities where Elon Musk's new low earth orbit (LEO) satellite-broadband company Starlink won subsidies. This is the case despite the fact Musk has made it clear, both to the media and to the FCC, that his venture is still in the trial stages and isn't intended for urban customers.
As SpaceX told the FCC when the agency was creating the bidding rules for the RDOF, "Starlink is uniquely positioned to deliver high-quality broadband service to the hardest-to-reach rural Americans, for whom access has for too long been unreliable, prohibitively expensive, or completely unavailable" (emphasis added).
Musk himself poured cold water on the notion that Starlink will be a competitor to traditional urban ISPs, pointing out that the service is "not good for high-density situations." He added, "I want to be clear, it's not like Starlink is some huge threat to telcos. I want to be super clear it is not . . . In fact, it will be helpful to telcos because Starlink will serve the hardest-to-serve customers that telcos otherwise have trouble doing with landlines or even with ... cell towers" (emphasis added).
LEO satellite-internet service has to cover a very wide geographic area with limited bandwidth. Those inherent physical limitations coupled with Musk's own comments make it clear that the service isn't suitable for urban customers. But the pricing screams this truth as well: Starlink's retail price is slated to be $499 for the equipment and $99 per month thereafter. That's hardly a more affordable service in cities, or one that could compete on price with cable-modem and telco-internet services (or fixed-wireless services, including 5G) that are widely available in urban areas.
But while Starlink bid for and won the right to serve many rural areas (in exchange for FCC subsidy payments), it appears to have reached its total $886-million award by bidding for the right to serve a large number of very urban areas that the FCC's broken system deemed eligible for awards.
Our initial estimates indicate that nearly 13 percent of the money awarded to Starlink — $111 million — is to provide service in urban areas. And the level of wasted funds is potentially higher, as the FCC's auction design led to assignment of winning bids in areas that may already be served or may not meet the threshold of a "high-cost" area, even though they are located in an area that the Census Bureau defines as non-urban.
Elon Musk's company appears to have played by the rules. But the FCC's rules created a broken system. By bidding for subsidies assigned to dense urban areas, Musk's firm and others were able to get potentially hundreds of millions in subsidies meant for people and businesses in rural areas that would never see broadband deployment without the government's help.
Apparently we have a massive airport digital divide
I first realized something was amiss with the RDOF awards when I started perusing the FCC's map of winning bids, looking to see if any were granted near where I live (Los Angeles County, the most-populated county in the United States). I noticed the FCC granted a subsidy to two industrial buildings right outside of LAX airport. So this put me on the trail: Just how many major U.S. airports were on the FCC's eligible list?
When I started looking, I was shocked to discover the number of airports where Musk's Starlink and a few other providers won subsidies. Below is a list of the 20 busiest U.S. airports. These are hardly unserved or underserved places. And they're hardly candidates for subsidies paid for by regressive fees on your telecommunications-service bills.
Yet in nearly every one, Elon Musk's Starlink or another less-well-known ISP bid for and won subsidies, even though it's preposterous to think these are locations where these companies will serve a single customer.
Hartsfield-Jackson Atlanta International Airport: The airport proper was not on the FCC's list of eligible blocks, but Starlink won subsidies for most of the eligible adjacent areas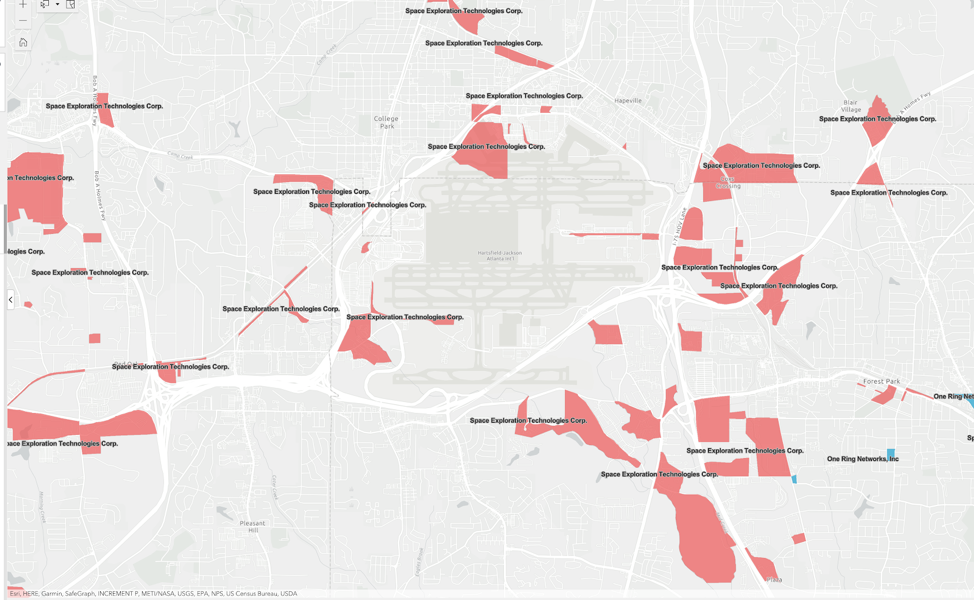 Los Angeles International Airport: The fixed-wireless company Geolinks won subsidies for an adjacent area (see my

prior blog post

). Our initial analysis suggests that non-rural areas account for nearly one-quarter of the $235 million in RDOF funds awarded to Geolinks.

O'Hare International Airport (Chicago): Starlink won subsidies for adjacent areas.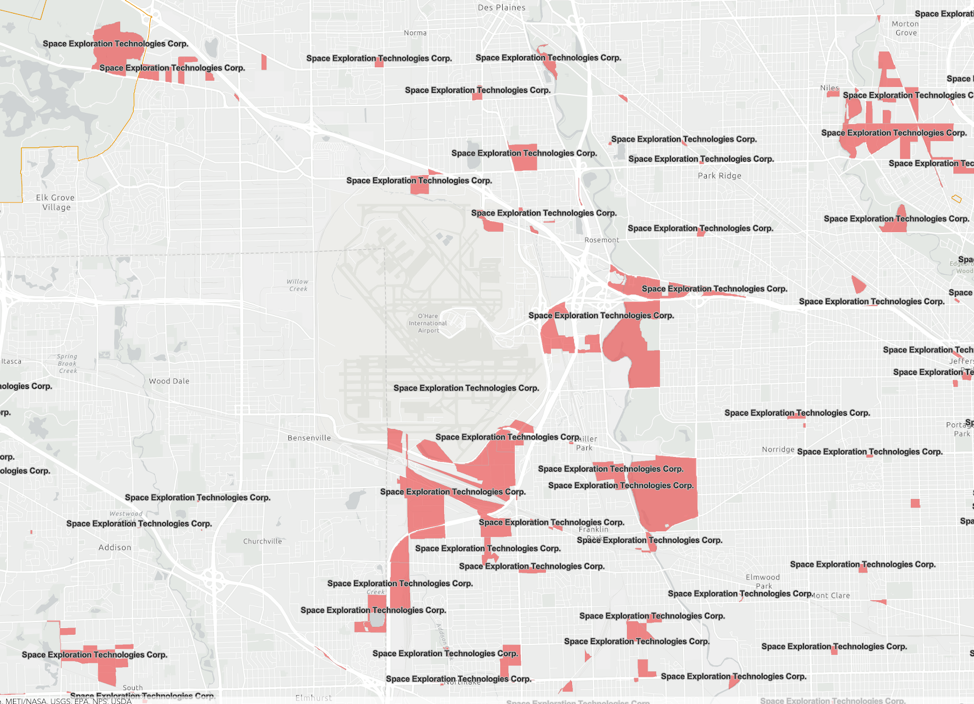 Dallas/Fort Worth International Airport: Fixed-wireless company LTD Broadband LLC (which won the most RDOF awards measured by dollars) won the subsidies for DFW, a clear waste of scarce USF funds. Starlink did not win any areas in Texas, despite Musk making a big show of moving to the state.
Denver International Airport: Starlink won subsidies to serve part of the airport terminals and adjacent areas.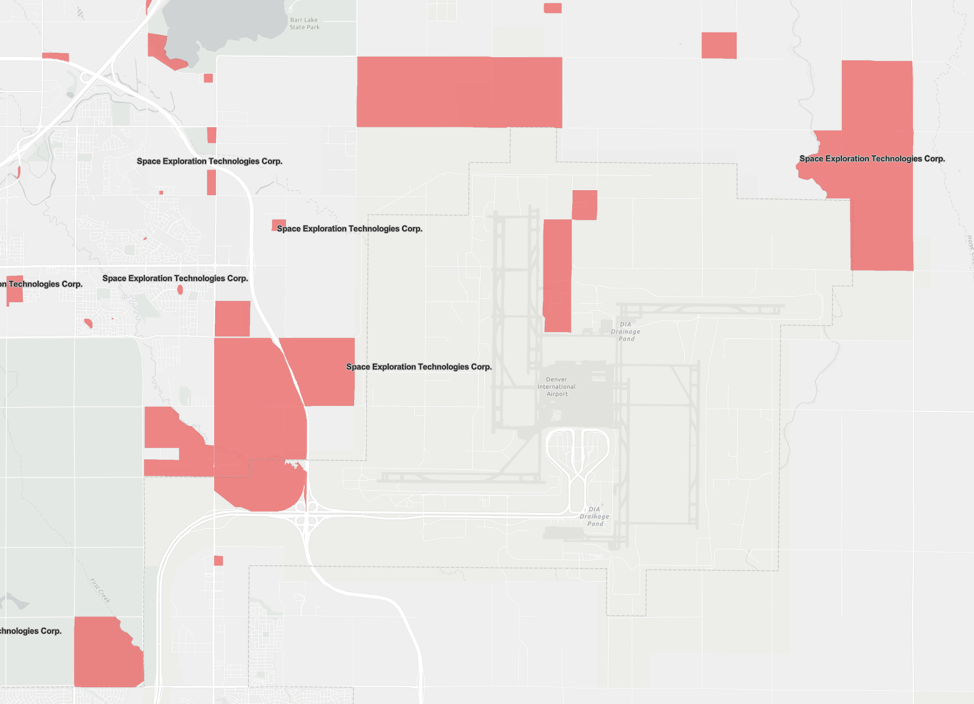 John F. Kennedy International Airport: Starlink won subsidies to serve some of the airport proper and adjacent areas in Queens.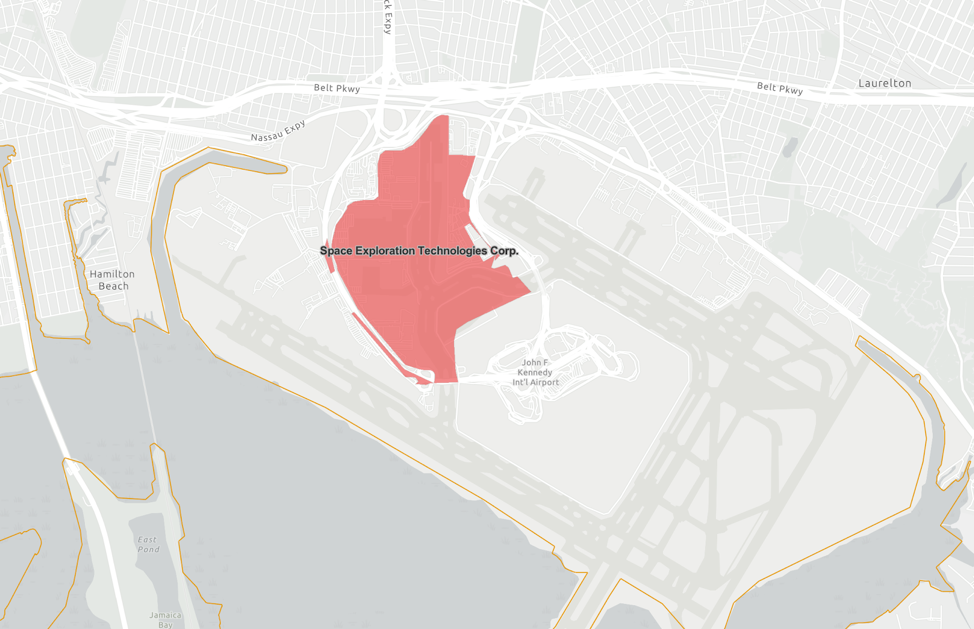 San Francisco International Airport: SFO and adjacent areas were

not

on the eligible list of unserved areas. (A rarity for our country's major airports, it seems!)

Seattle-Tacoma International Airport: SeaTac proper wasn't on the eligible list, but Starlink won several of the eligible blocks adjacent to it.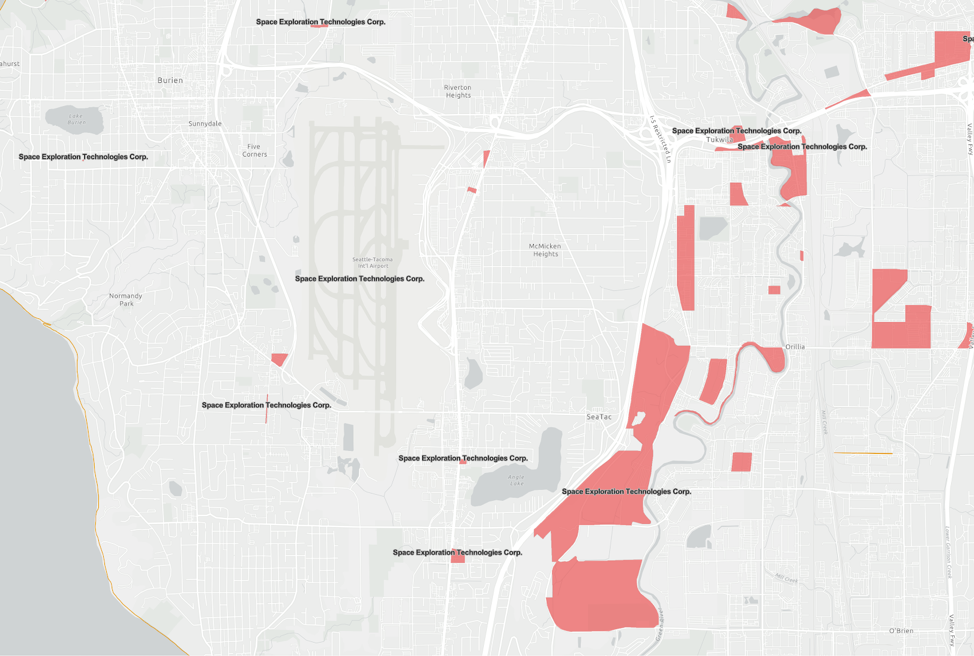 McCarran International Airport (Las Vegas): According to Form 477 data, none of the areas at or surrounding Las Vegas' main airport are eligible. But Starlink won the right to serve a parking lot and strip mall containing a bagel shop directly adjacent to the airport.

Cooperative Network Services, LLC

Orlando International Airport: This airport and adjacent areas were not on the eligible list of unserved areas.
Newark Liberty International Airport: Starlink won subsidies to serve the airport terminals and adjacent areas too.
Charlotte Douglas International Airport (Charlotte, North Carolina): This airport and adjacent areas were not on the eligible list of unserved areas.
Phoenix Sky Harbor International Airport: This airport and adjacent areas were not on the eligible list of unserved areas.
George Bush Intercontinental Airport (Houston): Fixed-wireless company LTD Broadband LLC (which won the most RDOF awards measured by dollars) won the subsidies for Houston just as it did for DFW, a clear waste of scarce USF funds. As noted above, Starlink did not win any areas of Texas.
Miami International Airport: Starlink won subsidies to serve the airport terminals and adjacent areas.

Cooperative Network Services, LLC
Logan International Airport (Boston): Logan proper was not on the list of RDOF-eligible areas, but Starlink won subsidies for many of the supposedly unserved areas surrounding the airport.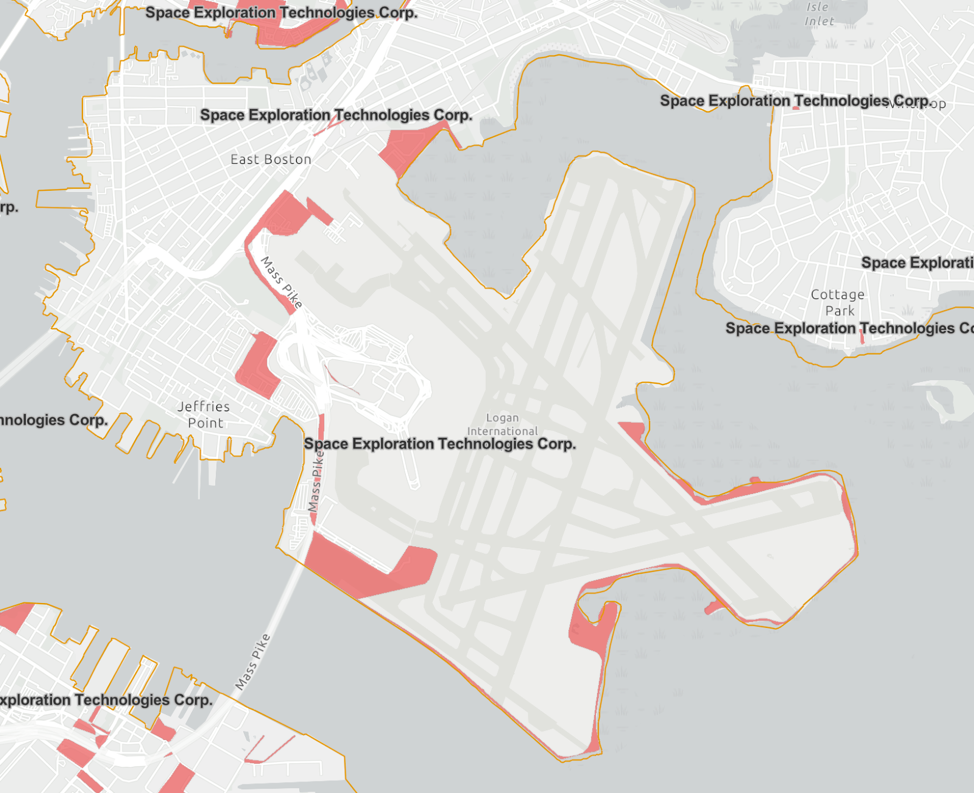 Minneapolis-Saint Paul International Airport: Starlink won subsidies to serve part of the airport terminals and adjacent areas.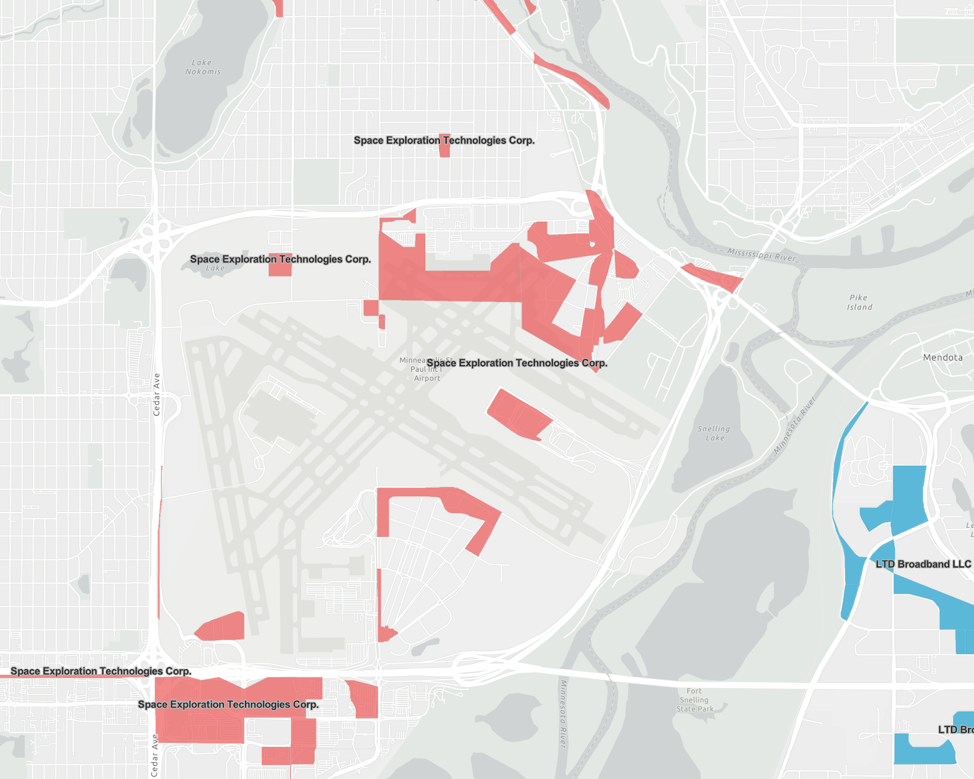 Fort Lauderdale-Hollywood International Airport: The airport terminals were not on the list of eligible blocks, but Starlink won all of the eligible blocks surrounding the airport.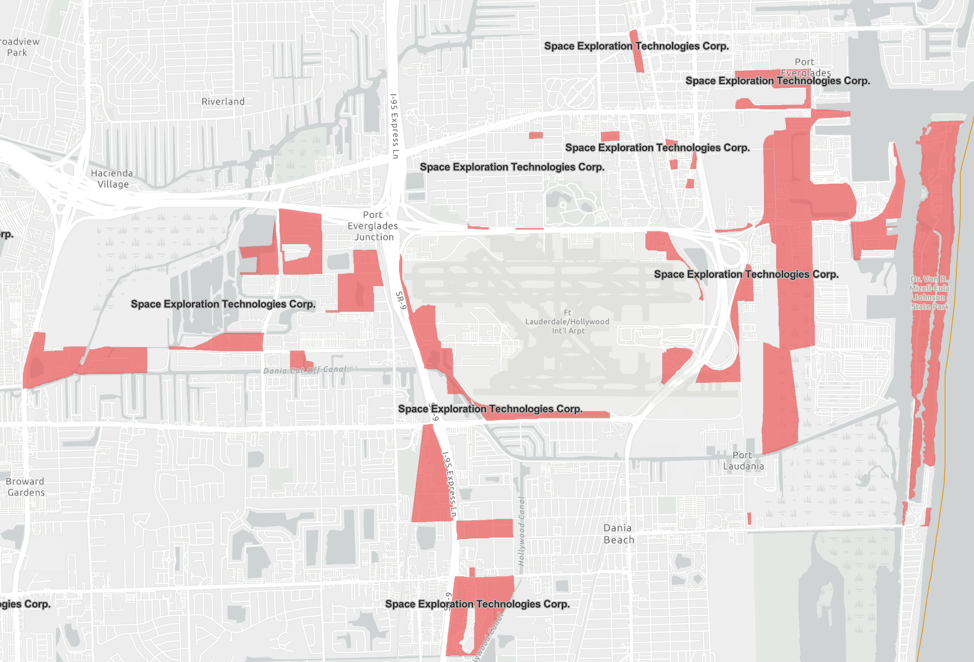 Detroit Metropolitan Airport: Starlink won subsidies to serve the airport terminals and adjacent areas.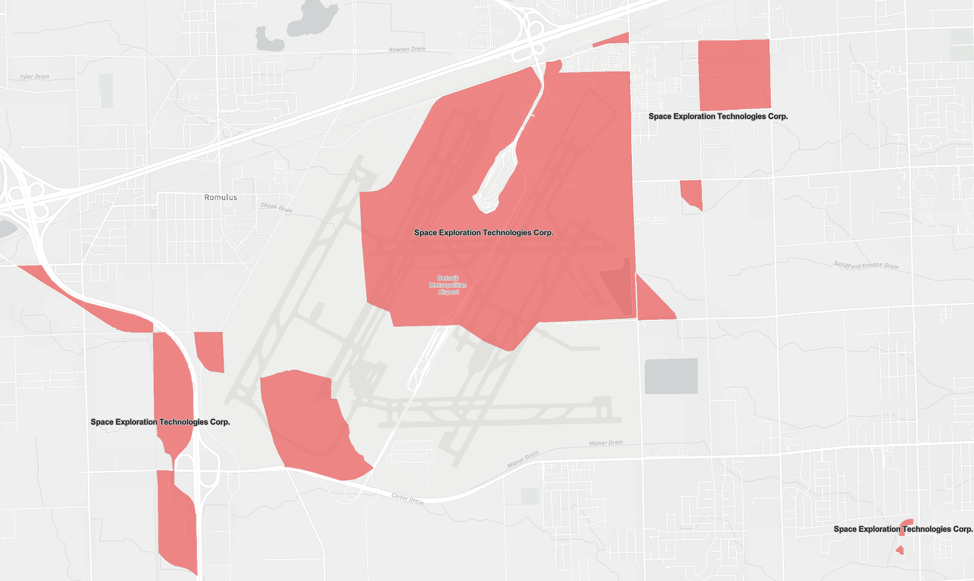 Philadelphia International Airport: Starlink won subsidies to serve part of the airport terminals and adjacent areas.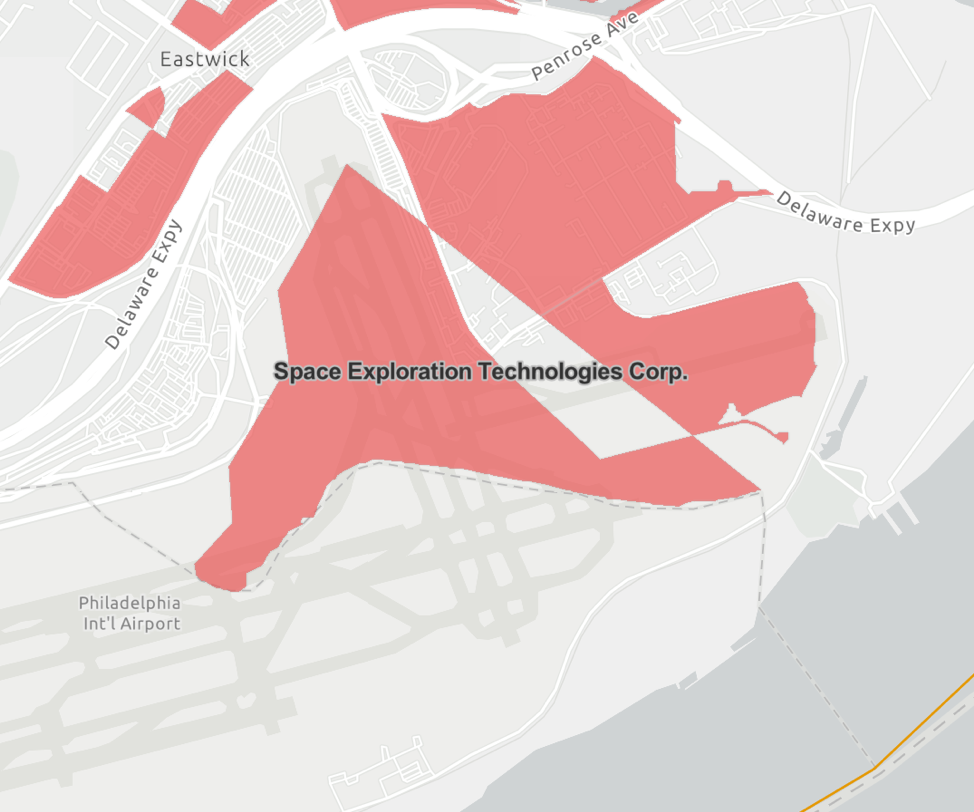 Musk's Starlink won 'rural' deployment subsidies in many urban metropolitan areas
I could write a book full of these examples — or even several volumes. After all, Musk won $886 million to "serve" nearly 645,000 locations in 35 states. Many major metro areas are littered with Starlink-winning blocks. It's unlikely that any single person living in these areas will ever become a Starlink customer, and there's no justification for the FCC to offer Musk or any ISP deployment subsidies for these densely populated urban areas.

It's questionable whether Musk needed any subsidy money to launch and operate his rural-only satellite-broadband service. But by cobbling together $886 million in awards using so many urban blocks to add to that total, Starlink and the FCC have short-circuited their own policy design.

If Musk needed that much of our subsidy money to make his rural-only operation viable, he should have bid on rural blocks in the areas he intends to serve. That he didn't suggests three possibilities: He either couldn't win the reverse auction for those areas outright (meaning another company will get FCC subsidy money to serve them while Starlink covers them too); that this is just another Hyperloop-style boondoggle; or that the auction was so rushed that companies like Starlink didn't even know what they were bidding on. None of these explanations are acceptable.
Here are some examples from the biggest U.S. cities and metropolitan areas. Note: The name "Space Exploration Technologies Corp." hovering over an area indicates a Starlink-subsidized block below it. Most of these are too small to see when zoomed this far out. But as you can see for yourself, many of these areas are unpopulated open spaces, industrial parks or random strips of road medians:
New York City
Here's the partial view of the New York metro area. This map doesn't even begin to capture the insanity of the subsidies Musk won, like the award Starlink won to serve the Jersey City Target store. I will provide some additional examples in my next post.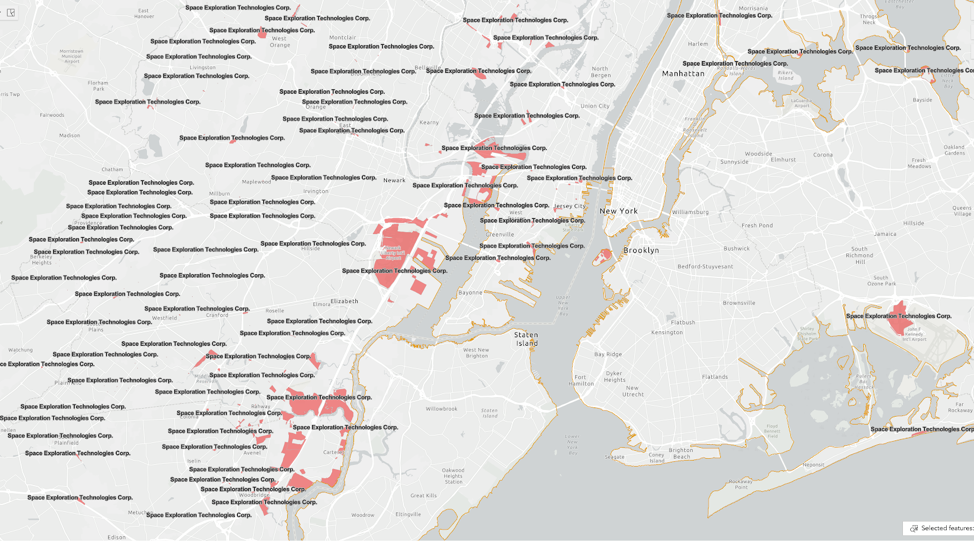 Chicago
We see the same story here. Zooming in on downtown Chicago provides some ridiculous examples of waste, such as blocks with luxury hotels where Musk won RDOF subsidies.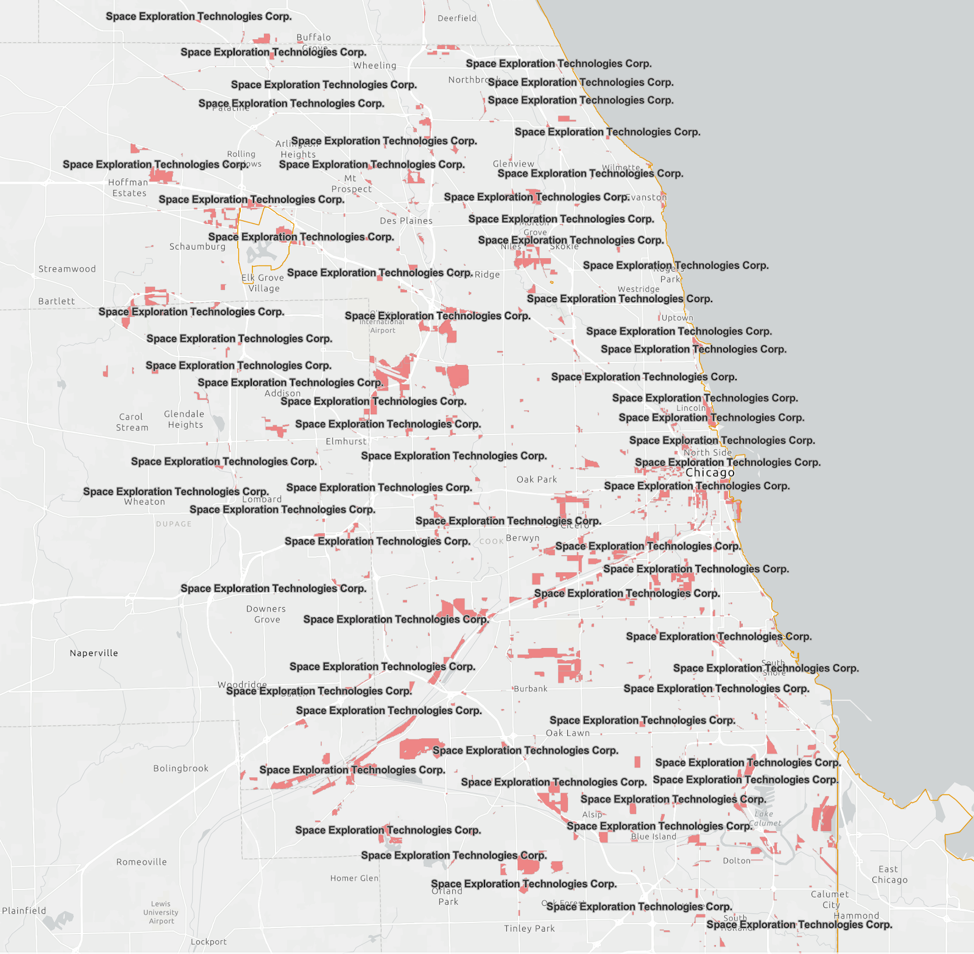 Washington, D.C.
There were no winning bids by any company for D.C. proper, despite the strange fact that the FCC deemed numerous downtown government buildings as eligible for RDOF awards. But Musk's Starlink won a huge amount of RDOF funding to ostensibly serve the urban and suburban areas surrounding D.C., which Comcast, Cox and Verizon FiOS are already blanketing in gigabit service. Many of the blocks Starlink won in this area are empty parking lots, grassy fields and highway medians.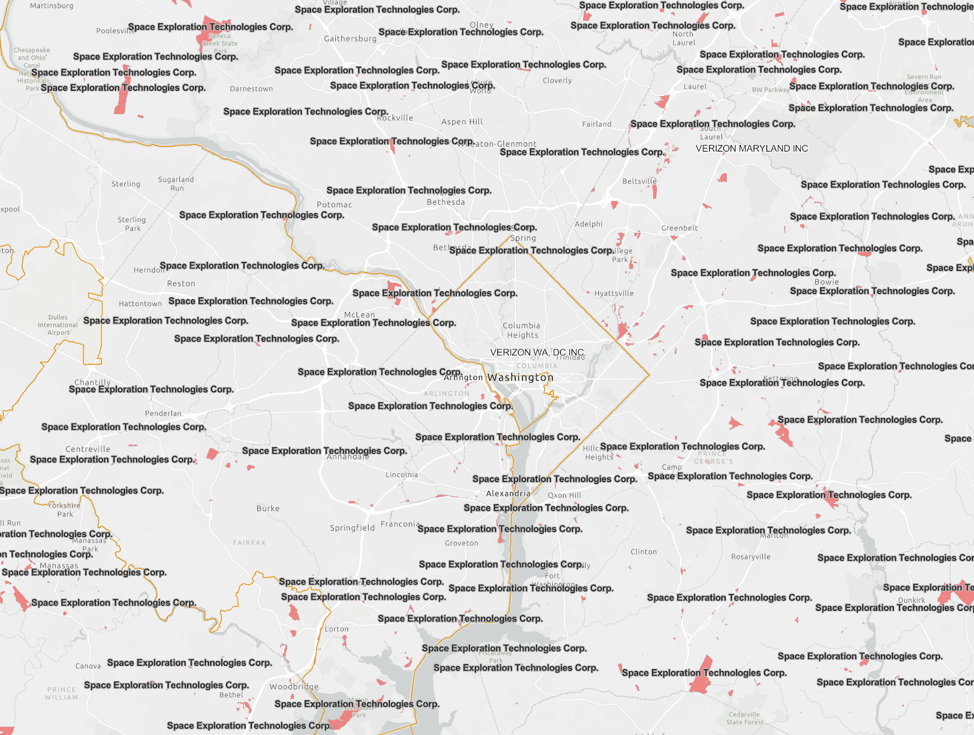 Miami
Miami is littered with Starlink RDOF blocks that are parking lots, open spaces and retail spaces. One ridiculous example is a parking garage in downtown Miami Beach, two blocks from the beach, surrounded on all sides by multiple companies offering gigabit service.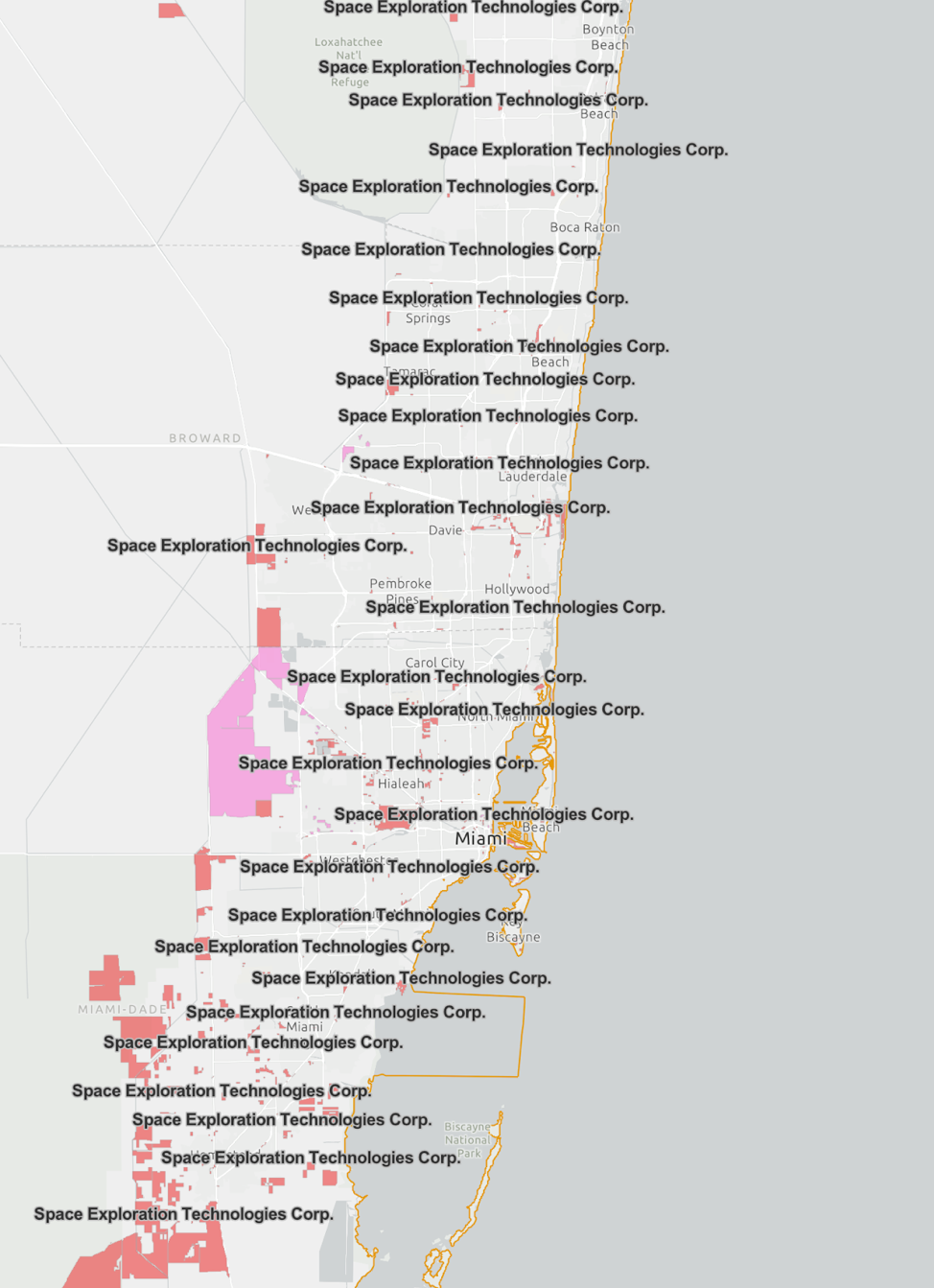 Philadelphia
Musk really cleaned up in Greater Philly. I will offer some additional egregious examples in my next post — like Musk winning subsidies to serve Drexel University buildings, when the school self-provisions its own 100 Gbps Internet2-connected lines. Zooming in on this map exposes a litany of tiny blocks adjacent to gigabit deployments, where there's no defensible case to be made for FCC subsidies.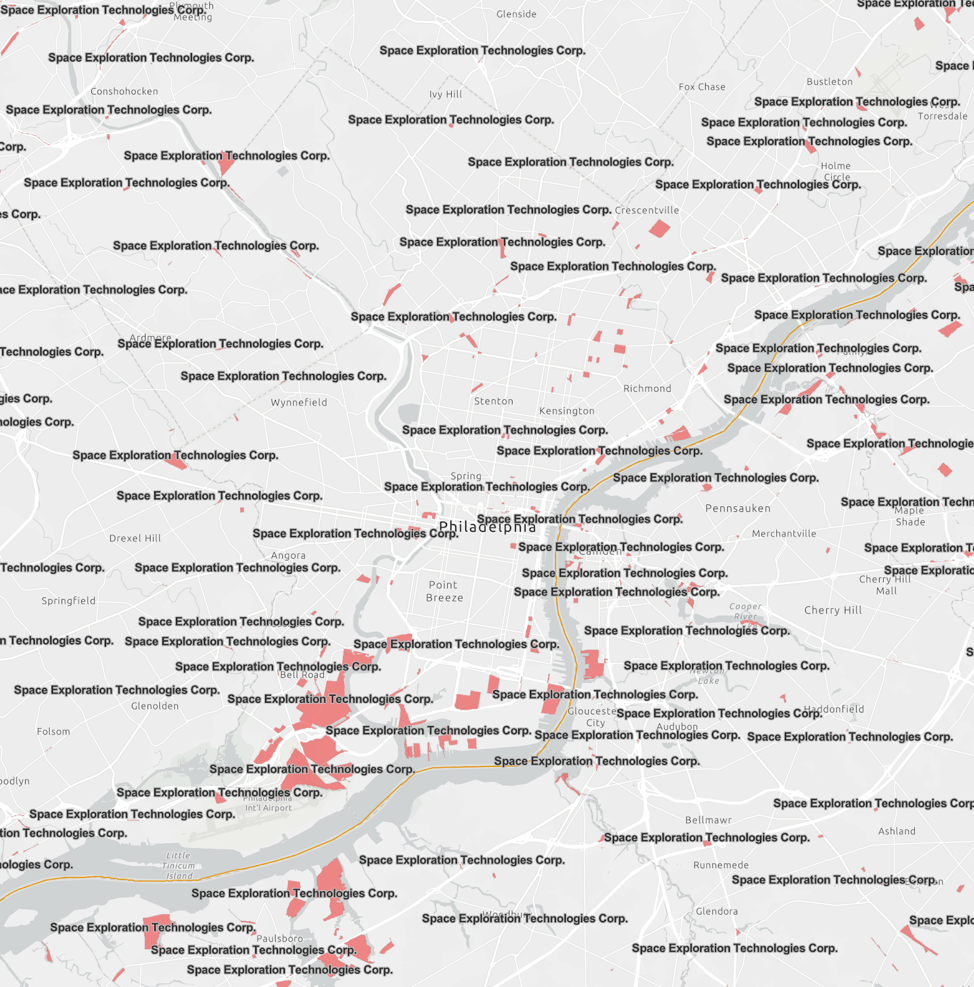 Atlanta
The rural areas surrounding metro Atlanta are full of RDOF awards to companies like Charter, but Starlink dominates the urban and suburban core. Many of these areas are industrial, and some are populated areas that are adjacent to existing gigabit-wired deployments. As always, zooming in uncovers a litany of tiny blocks not discernible from the metro-level view.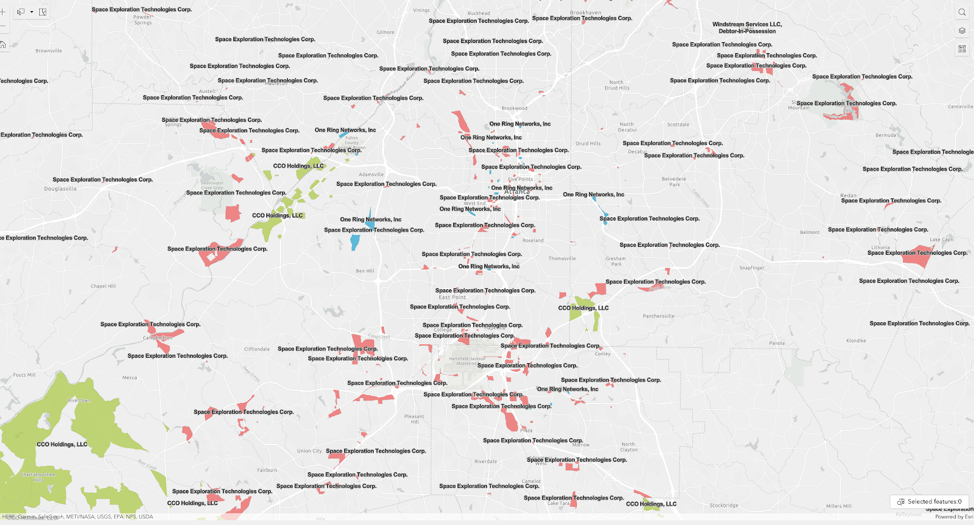 San Francisco
It's hard to fathom that the cosmopolitan home of many high-tech companies would have any areas that need rural-deployment subsidies — but Starlink won awards to serve a number of the city's blocks. These include an award of $13,230 ($1,323 per year) to "serve" portions of the street (and only the street) that borders the southern edge of Golden Gate Park. That amount of pure waste may not seem like a lot in the grand scheme, but it's enough to support 12 Lifeline-program families for a decade.
Starlink receiving a subsidy to serve a busy road is bad enough. But it's even more ludicrous considering the FCC awarded subsidies to a different company to serve some of the areas of Golden Gate Park directly next to where Musk is being paid to not-actually-serve.
A fixed-wireless company named Etheric Communications won subsidies to bring gigabit to certain parts of the park, some of which touch the parts of the road outside that the FCC is paying Musk to serve. In fact, all of the "blocks" Etheric and Musk are being paid to serve — like the block containing the Botanical Gardens — touch other blocks in Golden Gate Park where Etheric already reports offering 200 Mbps-level service (areas that also have a number of other wired and wireless ISPs already offering service).
Why are USF funds being given to Etheric to expand its service a mere few feet away from where it already (presumably) profitably operates in competition with numerous other ISPs? Why is the FCC paying Elon Musk anything to "deploy" his satellite service to a few blocks of concrete and street lights that border this urban park?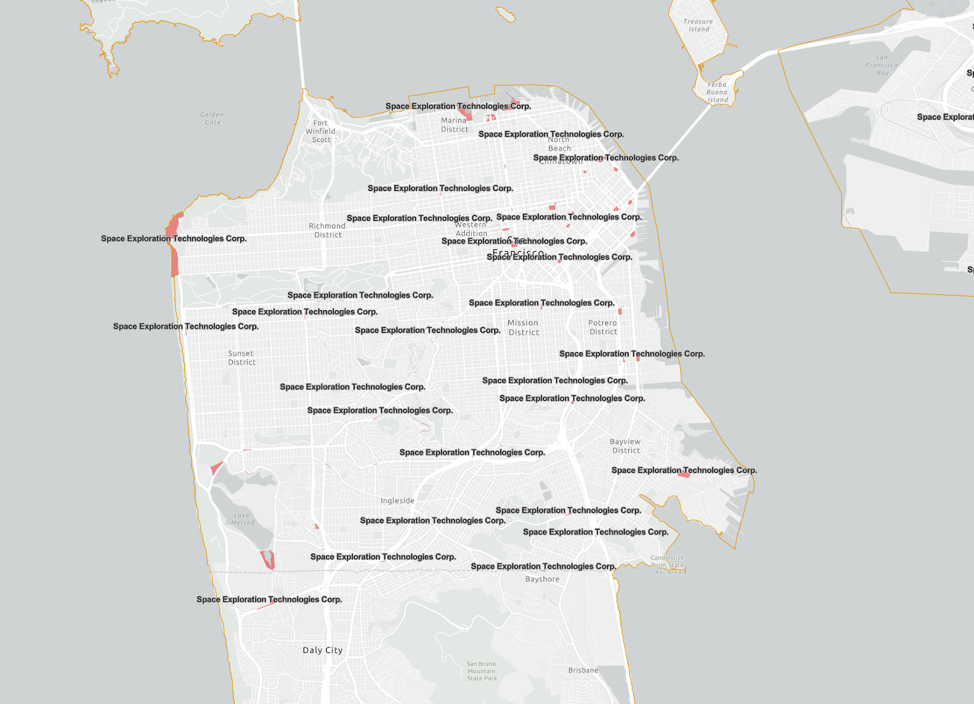 Seattle
Here we see the FCC funded Starlink to serve densely populated areas of Seattle, which is home to major tech companies like Amazon and Microsoft. Musk won subsidies to offer his expensive satellite-broadband service to blocks containing big-box stores like Target, and one award for the block containing the already well-connected Seattle Municipal Court building.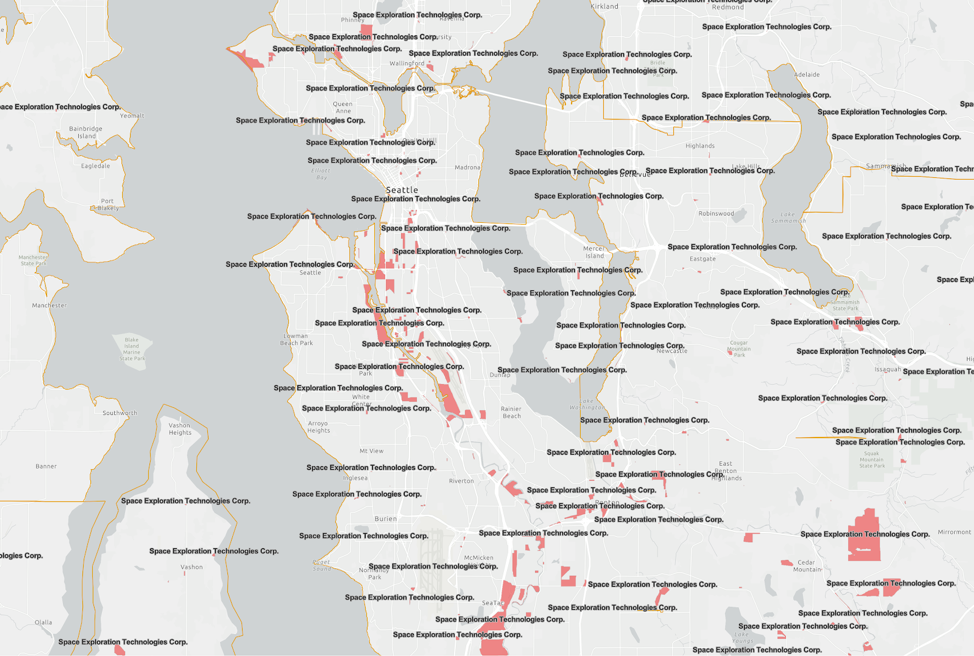 Boston
As an organization founded in Northampton, Massachusetts, Free Press is keenly aware of the need for broadband deployment in much of the western part of the state. That's why it's so disappointing to see rural-subsidy dollars that never flowed to needy towns now flowing to well-connected areas in and around Boston.
Spend a few minutes with the RDOF-winners map and you'll find examples like Starlink meeting the $990 annual-reserve price to deploy to a stretch of grass along I-90 that is literally across the street from buildings where two cable companies (Comcast and Radiate Holdings) and two fixed-wireless companies (Starry and netBlazr) currently offer service.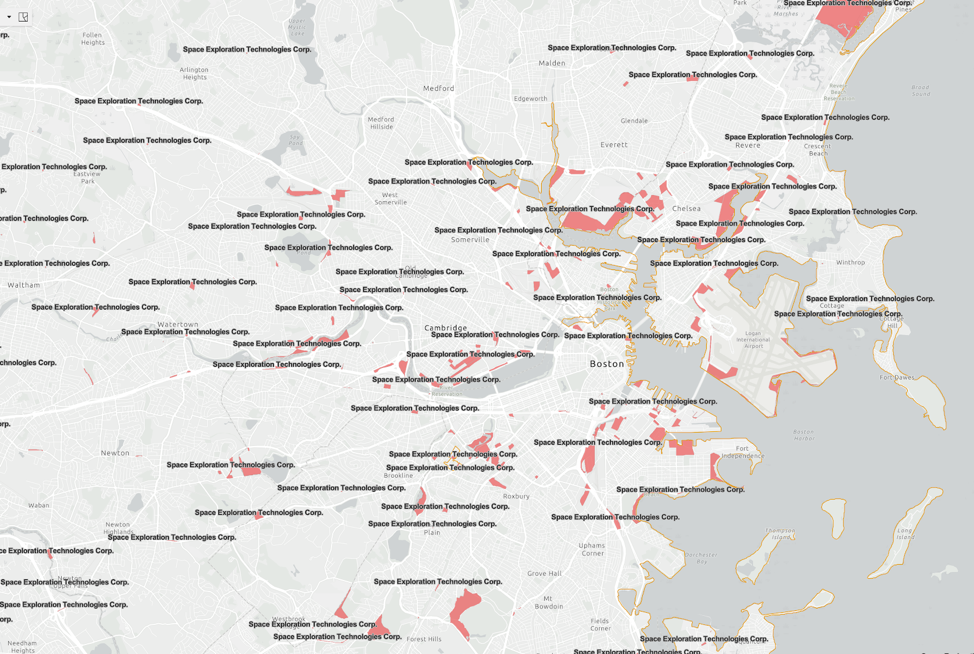 Detroit
Rounding out our list of 10 is Detroit (I could keep going; many major-metro areas in the 35 states in which Starlink won subsidies have tons of egregious examples of waste). The metro-level view gives an initial idea of the extent of Starlink subsidies in this dense urban area. They include such head scratchers as Starlink winning blocks that surround the massive Little Caesars Arena, which abut other blocks where Comcast and MetroNet fiber offer gigabit-level service.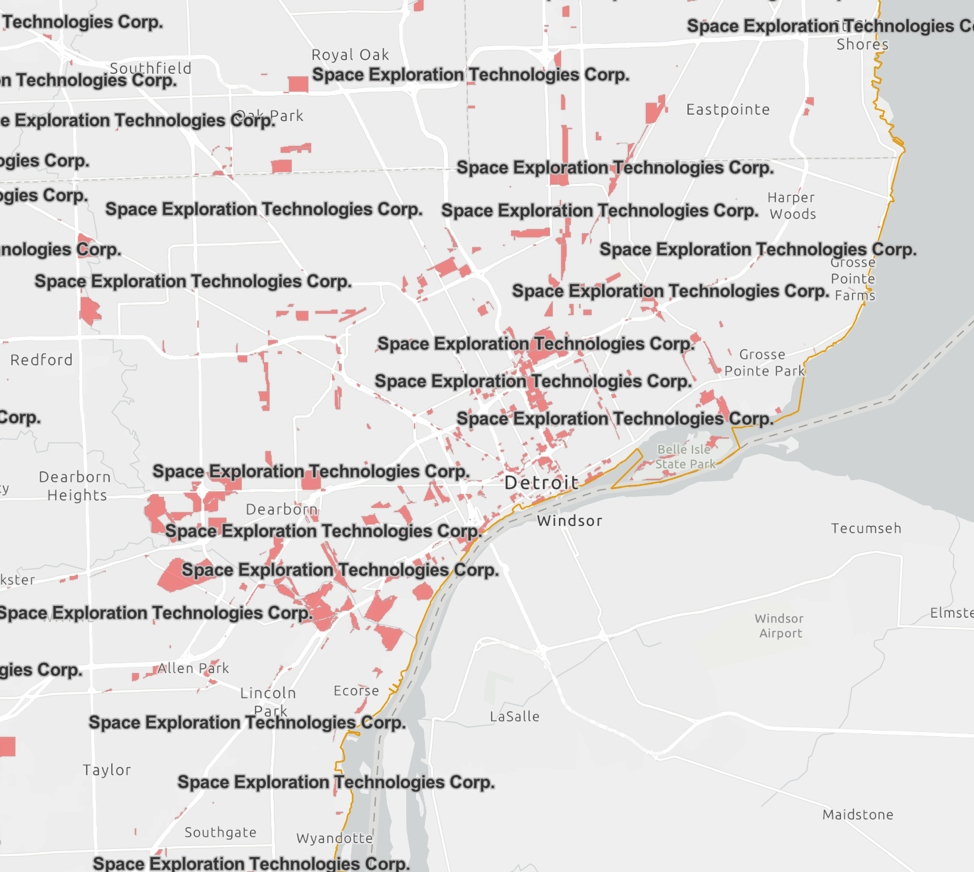 Some people say we shouldn't treat the perfect as the enemy of the good. But a big swindle — perpetrated by those who attack policies designed to help poor people connect — is not acceptable.
The purpose of the USF and the RDOF is to provide subsidies to private companies where no business case for deployment exists, today and 10 years from now. Yet here we have way too many examples of your money going out the door and into the pockets of rich ISPs, to ostensibly serve places with no inhabitants, or where service is already deployed, or where gigabit is literally across the street and could be profitably extended without subsidies.
As a satellite company with a self-professed rural-first business plan to boot, Musk's Starlink never should have been permitted to bid on any urban-area blocks. As we've seen, these blocks will show up on the FCC's map as "unserved," for reasons that have no relationship to the purpose of the Universal Service Fund, or to this specific RDOF auction.
The FCC created the RDOF to find the most efficient subsidy amount needed to get an ISP to deploy to an area that lacks infrastructure, when that area would never see it but for the subsidies. But none of the urban and suburban areas where Starlink won USF subsidies fit that criteria.
These areas are currently served by at least three national 5G carriers, each of which currently offers internet-access services that are comparable in quality and price to Musk's yet-to-launch Starlink. These areas are also literally adjacent to areas where cable and wired-telephone-company incumbents have deployed gigabit infrastructure.
Let me be clear: The criteria for whether we spend scarce RDOF monies should not be based simply on whether a block shows up in the FCC Form 477 data as unserved. Nor should it matter if the block shows up on the FCC's map as an unserved urban block with people living there. The criteria should be whether a subsidy is actually needed — and in deciding that, it would be logical to award funds intended for rural areas to areas that are actually rural.
Musk is but one example of questionable RDOF spending. We and others looking into this will surface more examples in the days to come. We don't yet know what can be done to right the ship and make RDOF what it was intended to be. What we do know is that Ajit Pai's alleged crowning achievement is lousy with the exact kind of waste he used as an excuse to attack and shrink the Lifeline program.

There's no longer any political penalty for hypocrisy in D.C. But there is plenty of work to be done to clean up the mess that Pai and his Trump cronies have left in their wake.