Black Future Newsstand: Media Filled with Joy and Liberation
Almost two years ago, a few folks at Free Press' Media 2070 project dreamed up the concept of a "Black Future Newsstand."
Our hope was to embody a future where reparations and liberation have been made real — and to capture the media that could get us there.
Black Future Newsstand makes its debut in Harlem
Black Future Newsstand came to life earlier this month as a custom-built art installation we co-created with the Black Thought Project. We filled the newsstand's shelves with publications that center Blackness, and invited people to contribute their visions for a future media via our exhibit's "Black Thought Wall," asking questions like "what do you love about yourself?"
In honor of Juneteenth, we launched the newsstand with a series of four public events across Harlem, a historic hub of Black artistic disruption. We kicked things off with a preview at The Africa Center as part of the Museum Mile festival.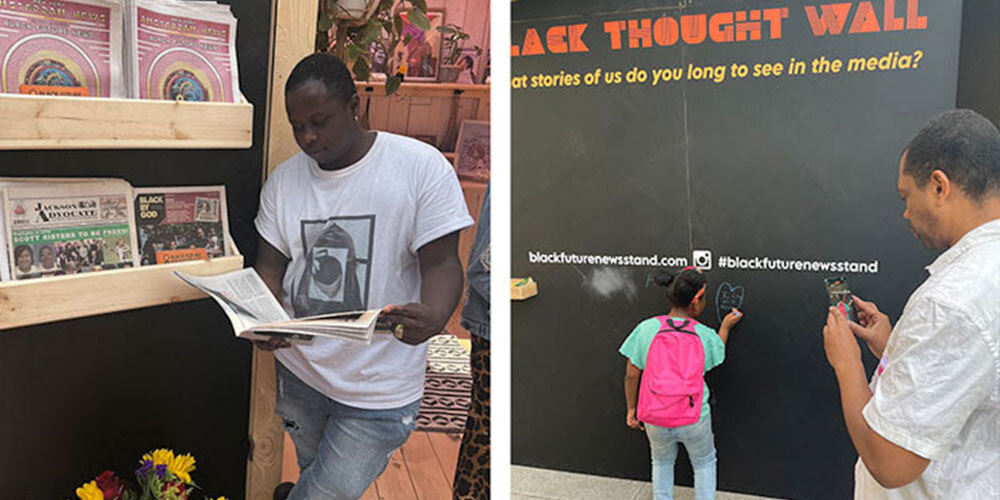 A few days later, more than 200 supporters, partners and community members joined us at the same venue for the official VIP launch reception. Then on Saturday morning, we journeyed farther uptown to the Schomburg Center for Research in Black Culture, where the annual Literary Festival, or "Lit Fest," attracted thousands of New Yorkers. MSNBC's Joy-Ann Reid stopped by for an impromptu visit to our newsstand, much to the delight of visitors!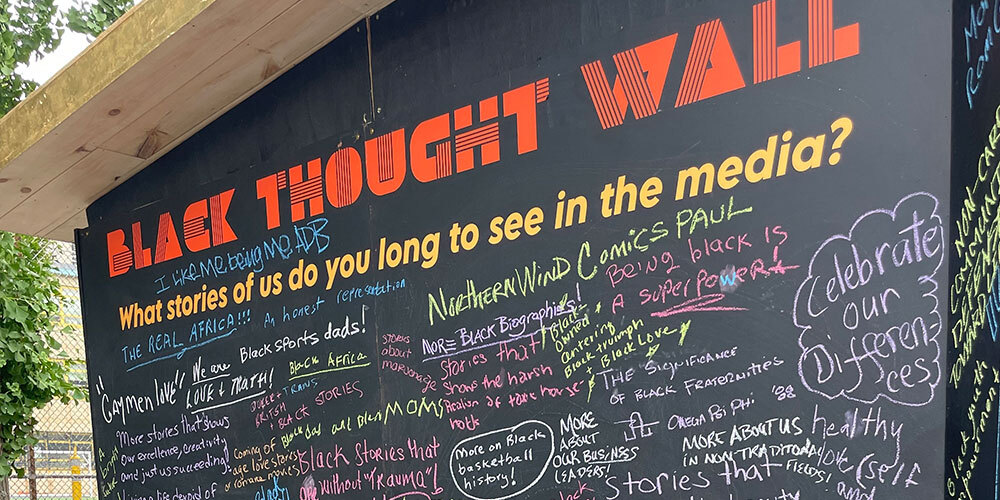 Finally, on Juneteenth we returned to The Africa Center to wrap up our launch series with a zine-making workshop led by famed graphic artist and educator Jen White-Johnson. This event brought out 30+ community members who learned the art and history of Black liberation zines and got to create their own.
Centering and celebrating Black voices
Another highlight of our launch week was the publication of a TIME Op-Ed that we co-wrote with Black Thought Project founder Alicia Walters. In our piece —  "This Juneteenth, We Must Undo the Toxic Narratives Placed on Black People" — we write: "It's time to center the voices of Black people in society, to create spaces dedicated to Black truth-telling and expression … and to finally begin the process of healing the deep generational wounds of slavery."
Our team also collaborated with the historic New York Amsterdam News — the oldest Black-owned newspaper in the United States — on a special insert for the Juneteenth print edition. The insert featured articles and artwork created by Media 2070, the Black Thought Project and other allies alongside clips from the newspaper's archives on reparations, Black love and more. You can see the digital version of the "Black Future News" on the Amsterdam News website.
It was so powerful to see the Black Future Newstand in the world and watch Black people of all ages cover the Black Thought Wall with their dreams of the media's future. The exhibit will be on display at The Africa Center until July 31. A documentary featuring behind-the-scenes interviews and footage from the project's creation is in the works. And we're already discussing plans to take Black Future Newsstand to future locations.
If you're interested in bringing Black Future Newsstand and its companion programming to your area, reach out to our team to schedule a chat.
In the not-so-far-away future, we'll look back at this time as the magical age in which we finally began to repair anti-Blackness and undo centuries of media harm.
---
Donate today to help the Media 2070 team bring Black Future Newsstand to other locations.