Anti-Asian Racism Is Spreading as Fast as the Coronavirus
It's hard to miss the news about the spread of the coronavirus, or COVID-19.
This blog is not about the spread of the disease. For that I recommend following the guidance of the World Health Organization (WHO) and the Centers for Disease Control (CDC) as well as your local and state health officials for the most up-to-date and accurate information.
I want to talk about something spreading as fast as the virus: racism and xenophobia.
Notice anything about this Facebook post from The New York Times?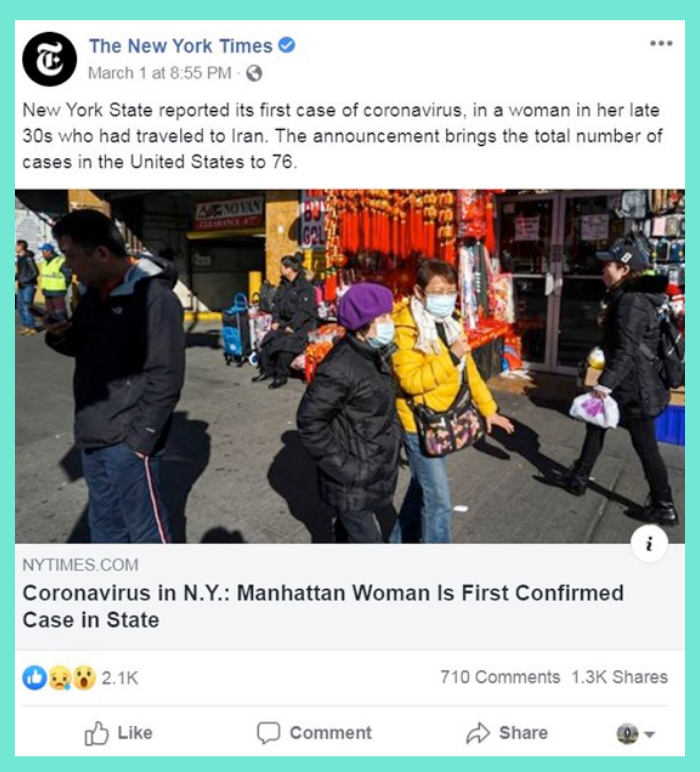 Or this tweet from the New York Post?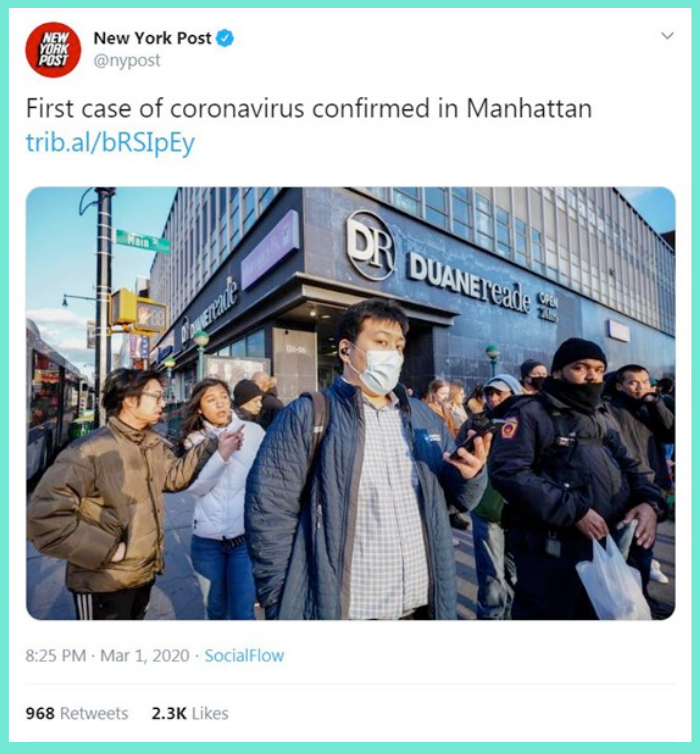 How about these tweets from The Hill? Anything look out of place?

Did you figure it out? Let's go through each of these.
In The New York Times post, the article headline and subhead clearly state that New York's first case of coronavirus originated from a woman who traveled to Iran. So why did the paper use an image of two Asian women wearing masks in Queens?
NBC News noted that "The Times changed the photo on its website ... but the Facebook link to it still shows a photo of two Asian women wearing masks."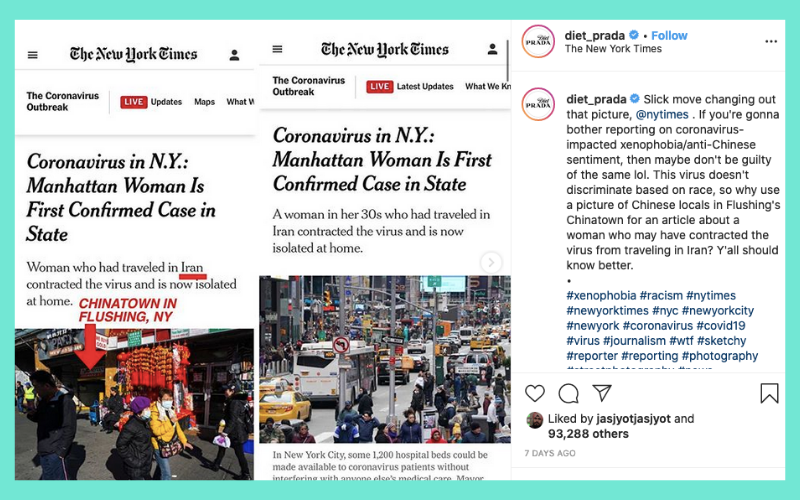 Meanwhile, the New York Post's tweet notes that the first case of coronavirus occurred in Manhattan. Yet the outlet used a photo of an Asian man in Flushing, Queens — and has refused to change it.
The Hill has since deleted these tweets, most likely due to the backlash, and is now using different photos. But acclaimed TV writer Jenny Yang and others quickly took to Twitter to express their anger and disappointment at the original choices. And by the way, the photo of the man in a mask who's holding his backpack wasn't taken in New York but in Hong Kong.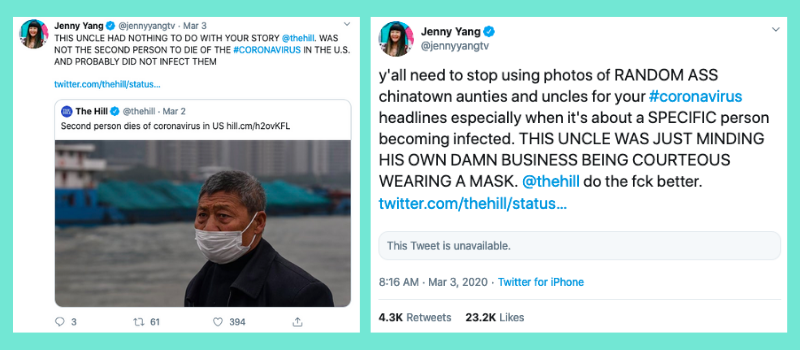 Images are powerful. And when combined with these headlines about the virus, they reinforce harmful and baseless stereotypes about Asian people and fuel racism and xenophobia. This is contributing to real-world violence and bullying as well as empty Chinatowns and Chinese restaurants.
This is just another example of the way diseases are used to "other" people.
In fact, a Washington Post Op-Ed notes that outbreaks of diseases "often have been attributed to marginalized groups in society, or the 'other' .... Asian Americans are still seen as 'forever foreigners,' no matter how long they've lived in this country. Time and again, they have been blamed for importing diseases."
We're also repeating the more recent history of the 2003 SARS outbreak, which was also marked with fear-driven racism against Chinese people all over the world. For example, in 2003 there was an "informal boycott of the Chinese community that stigmatized Asian Canadians and devastated Asian-owned small businesses. By some estimates, Asian-owned small businesses lost up to 80 percent of their income that year from the SARS scare."
The Asian American Journalists Association (AAJA) put out a statement calling on news organizations to exercise care in their coverage of the outbreak and to provide "proper context," especially concerning image choices:
"For many years prior to the coronavirus outbreak, face masks have been commonly used in East Asian countries, including for protection from pollution. This practice has crossed over into immigrant Asian American populations in the United States and the masks are now more prevalent as a result of the outbreak. AAJA urges news outlets to consider the various reasons for the face masks and provide context when using such images."
Journalists and newsrooms need to be more thoughtful about the photos they choose. Poor reporting and misguided image choices like the ones discussed here fuel xenophobia and threaten the well-being and safety of the Asian-American community.
Worse, they do nothing to keep people informed. In an interview with NBC News, Davidson College Journalism Professor Issac J. Bailey said:
"The solution, for journalists, is better journalism, which means deeper thinking about the choices we make in every circumstance, but especially during a time like this, when fear and uncertainty combine to seed the ground for all kinds of biases and stereotypes. ... We should be striving to give the public the most accurate, timely and in-context and useful information possible while also being careful to not further ugly stereotypes that can cause a different kind of harm."
The coronavirus is scary and the situation is changing every day. But there's no excuse for this kind of sloppy, misguided and fear-driven journalism.
Now more than ever we all need to work together, cooperate, keep calm and share credible information from places like the WHO and the CDC. We need to lift up resources that will help keep ourselves, our loved ones and our communities healthy and safe.
Here are some helpful resources to check out: 
Exploring the New Coronavirus: A Comic Just For Kids by Malaka Gharib
What You Can Do About COVID-19 Right Now from YES! Magazine
American Psychology Association: Five Ways To View Coverage of Coronavirus
APA Podcast Speaking of Psychology: Coronavirus Anxiety
These CDC guidelines about washing your hands are useful, so I'm just going to leave this here: 
"Wet your hands with clean, running water (warm or cold), turn off the tap, and apply soap. Lather your hands by rubbing them together with the soap. Lather the backs of your hands, between your fingers, and under your nails. Scrub your hands for at least 20 seconds."