Seattle Study Shows How Pervasive the Digital Divide Is
Seattle just released a new study examining broadband adoption that made two things perfectly clear:
The digital divide affects people everywhere in the United States, and

It's all about affordability.
Even in a tech-forward city like Seattle, people without adequate or affordable internet access are being left behind. According to survey data, a whopping 21 percent of Seattleites making less than $25K annually do not have broadband access in their homes — compared to just 1 percent of people making more than $50K.
This tracks with Free Press' report Digital Denied, which shows that income inequality and systemic racism are key factors fueling the digital divide.
Not only are low-income Seattleites more likely to be completely disconnected from home internet, but they're also 3 times more likely to rely on slower, less robust mobile services and 2.4 times more likely to rely on free public Wi-Fi. Data caps and other limitations can hamper mobile broadband, while public access can be time-restricted or otherwise unreliable — but both are significantly cheaper than fixed home-broadband service.
Even though poorer families are choosing price over performance, they're still paying higher prices than many families can afford. On average, Seattle households making less than $25K paid $91 monthly for bundled or standalone home-internet access.
From Seattle's Technology Access and Adoption Study: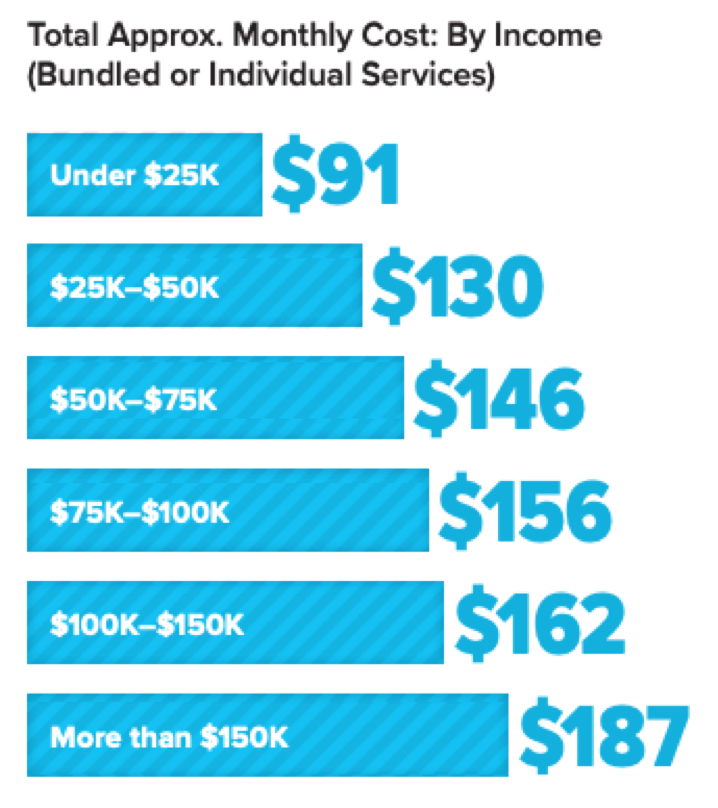 That's less, but not too much less than the $187 monthly bills for families making over $150K. Low-income families are forced to spend a much higher percentage of their monthly income on broadband than wealthier households — at least 3 times the proportion — even when they opt for the slowest-speed tiers available.
From the Seattle study: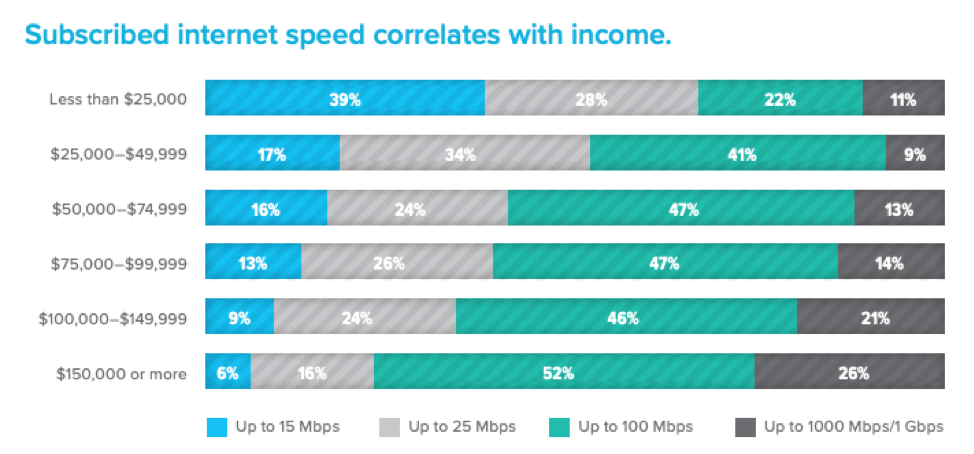 This phenomenon is called "tier flattening": Internet service providers are increasingly eliminating their lower-cost services, offering the same moderate-to-high prices for nearly every speed tier. In a functioning broadband market, competing providers should work to attract customers of all income levels — but in a near-duopoly market with minimal competition, tier flattening has hollowed out affordable options for Seattle's poorer residents.
Non-adopters are very clear about why they don't have home internet — it's too damn expensive. In Seattle, an overwhelming 61 percent of disconnected households say that cost is a primary barrier to obtaining internet access. Another 30 percent also cite lack of an internet device like a laptop as a key barrier, which may be related to the high prices of such devices.
From the Seattle study:
Another 20 percent of non-adopters say they don't meet the credit or deposit requirements to obtain home-internet access. Many fixed-broadband services require would-be subscribers to pass a credit check, even though credit scores perpetuate racial injustice. This presents a significant barrier particularly for people of color, and contributes to the persistent racial digital divide.
As Seattle Mayor Jenny Durkan states in the study's introduction, "We know that access to technology is a race and social justice issue."
Efforts to promote broadband buildout and digital-skills training are certainly important, but this research reminds us that even in a tech-oriented city like Seattle, affordability is the primary barrier to universal connectivity. At every level of government, from the city to the United States Congress, we must ask hard questions about how we can fix the broken broadband market to ensure that low-income families and communities of color aren't left behind.
At the federal level, that means protecting the Lifeline program that subsidizes communications service for low-income people, and blocking bad deals like the proposed T-Mobile/Sprint merger, which would further reduce the few affordable broadband options for people of color. It also means thinking big: pioneering a broadband tax credit for millions of low-income households, and incentivizing competitive prepaid and wholesale options for fixed-home broadband.
When it comes to bridging the digital divide, it's not enough for policymakers to stick to the same tired if-you-build-it-they-will-come approach. Our most vulnerable communities need affordable home-internet service for the dream of digital inclusion to become a reality.